Awesome news! We'd already told you that we got featured in InStyle magazine last December. Well, to keep the good news coming, this January we had another mention in Shape magazine.
Though these mentions make us feel incredibly honored, they don't surprise us, as the ORGANO™ OGX products have been in everyone's mouth for the last few months. From fitness bloggers to fashion writers, now we know the OGX FENIX Nutritional Shakes are here to stay alongside the detox-supporting FENIX DX™ and the energy-boosting FENIX XT™.
But we are not the only ones celebrating our products' success. If you are a Distributor, this is a golden opportunity for you, as now InStyle and Shape can be your allies when selling your OG products to your clients.
How to use InStyle and Shape magazines all allies
The first obvious choice, of course, is to

get a copy

of both magazines and carry them everywhere you might encounter one of your clients. The key here is to put some excitement in your pitch. No matter how fantastic the product is, you are not going to sell anything if you don't

spread the enthusiasm

.

Take a picture of the features and post them on your

social media

account. Brag about how the product you are selling has a mention in trustworthy media.

Don't let the fact of not acquiring a copy of the magazines stop you. Amongst all the people you know, many of them undoubtedly read fashion and fitness magazines.

Start a conversation

asking about what they read and find out if they've heard about

InStyle

or

Shape

.

Gather some OGX products

and

be ready

to sell them right away. These magazines represent a powerful marketing tool to boost your sales, so

don't run out of supplies

when pitching your products. If a client wants to get the same

FENIX XT™

that is featured in their magazines, don't make them wait for you to get your next batch. Even if they say they are not interested in buying the product, always carry some free samples with you and offer them to

open a chance of talking in the future

.
What are you waiting for to get your copies of INSTYLE and Shape?  Spread the good news and boost your sales today!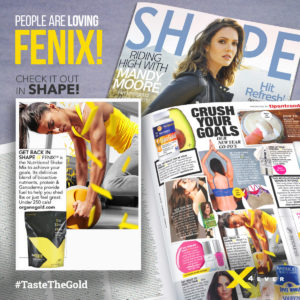 About ORGANO™
Founded in 2008 as Organo Gold, ORGANO™ is dedicated to bringing the benefits of the earth's nutritional riches to people throughout the world via its premium products that can be used daily to help to achieve a more energetic and healthier lifestyle. 
#WeAreOrgano