The blog-o-sphere is a flutter with good words surrounding the ORGANO™ OGX™ body management system. Once you learn a bit about the system, it makes total sense. This comprehensive, health-supporting kit has everything you need to keep your weight and health on track — including the meal replacement OGX FENIX™ Nutritional Shake, detox-supporting FENIX DX™, and energy-boosting FENIX XT™.
After trying out the OGX™, writers are finding value and support in the system — from InStyle Magazine to popular health and fitness bloggers.
The complete system offer nutrition with the OGX FENIX™ Nutritional Shakes, natural non-jittery energy with FENIX XT™ (a great pre-workout) and soothing detox with  FENIX DX™.
Distributors take note, these kind of blog reviews can be a great marketing tool for your ORGANO™ business. The third party validation helps potential customers understand that you're speaking the truth about the exception product line available. Use the snippets in social media to expand trust in your business and the ORGANO™ brand.
What Bloggers are Saying about OGX
™
"Shopping, relatives, parties, workouts. Power through your day with a refreshing drink that supports hydration, energy, and mental clarity with an antioxidant boost, advanced FENIX XT™. Less caffeine and sugar." InStyle Magazine.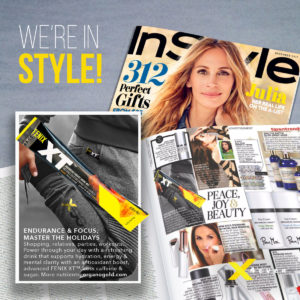 "XT can help support energy, focus, and stamina and it has some pretty amazing, and beneficial antioxidants too, to help keep the body strong, healthy, and hydrated, without the caffeine jitters or crash." Cindy Batchelor, Consumer Health Digest.
"This is perfect to drink prior to a workout to help with energy, and contains Rhodiola, which is used by Olympic athletes to support stamina and endurance. I may not be an Olympic athlete but my workouts benefit from the added stamina & endurance it provides."  Lindsey Warren, Fitness for the Rest of Us.
"Fenix XT has been a major asset to my busy schedule. My hours at the office have increased at the same time that I've been trying to boost my time at the gym. Fenix XT has been helping me get through the day without the crash that coffee or energy drinks tend to give me." Patti C., A Cruelty Free Me.
"I like that this energy drink comes in stick packs so I can take it on the go and also control the amount of liquid that I want to consume before I go running. If I drink too much water before running it hurts my stomach or I have to pee while I am running. I really like the mango peach flavor and that it has antioxidants along with vitamin C in it." Tara, Mom Knows Best.  
"I came down with a cold yesterday, so I decided to lay low and rest. However today was a work day so I had to pull it together, I was struggling a bit in the morning and I wasn't able to focus as well as I normally do. I decided to throw a Fenix DX into my water bottle. After I downed the bottle I felt noticeably better, as I usually do when I up my vitamin intake on sick days. This was a much more pleasant way to get all the vitamins my body needed, and I didn't feel as sluggish as I had felt just 20 minutes prior. Thanks to Fenix DX I was able to go above and beyond for my client today, exceeding the quota I had set for myself."  Patti C., A Cruelty Free Me.
"FENIX-DX is perfect to use after a tough workout to help gently detox and help you recover from your workout faster."  Lindsey Warren, Fitness for the Rest of Us.
To try out the OGX™ system and taste the difference of ORGANO™, head to SHOP OG and experience it yourself!
About ORGANO™
Founded in 2008 as Organo Gold, ORGANO™ is dedicated to bringing the benefits of the earth's nutritional riches to people throughout the world via its premium products that can be used daily to help to achieve a more energetic and healthier lifestyle. 
#WeAreOrgano