It's time to start making preparations for going back to school after the summer holidays.  We know that going back to our old routine can be hard, and often we leave aside many of our favorite activities to follow our new schedule.
If you're still living the X4ever Lifestyle we have good news — you don't have to give up on your healthy habits when setting up for a new routine. Make some time to exercise at least 3-5 hours a week to keep beating the X Challenge. And, because we know you'll soon be getting a busy schedule (if you don't have it already) today we bring you some tips for keeping a healthy diet on this back to school season for you and the ones you love.
Cook at home
Avoid eating out and try to prepare most of your meals at home. This won't only help you save money, but it will benefit your health. Food in restaurants contains high levels of salt, sugar, and other ingredients to enhance flavors and to make you feel full and satisfied. At home, you control these ingredients to your taste and choose your portions to meet your calorie intake goal. So plan ahead and prepare some lunches you can store in the fridge and warm up whenever you need them.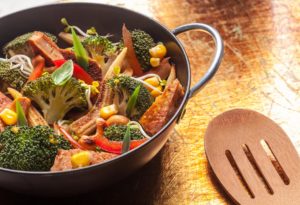 Prepare something to have on-the-go
Maybe you're one of those people that, no matter how early you set your alarm clock, you're always running against time. If preparing breakfast doesn't fit in your morning rushed schedule, have a backup plan to make something you can take on the bus or your car. We recommend always keeping your stock full of milk, pre-chopped fruit, and your favorite mix of OGX Shakes. This way, you'll be able to prepare a balanced breakfast smoothie to take everywhere you go.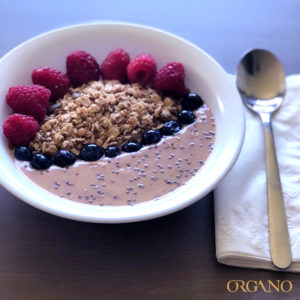 Prepare healthy snacks
Some people believe that snacking will make them gain extra weight. But snacks are included in almost every weight-loss plan. The key to healthy snacking is to choose the right ingredients, so you get the necessary nutrition and energy while avoiding sugar crushes. Fruits, veggies, nuts and greek yogurt are a popular option. And if you're looking to add some extra flavor into your balanced meal plan, you can always prepare healthy bars with your OGX Shake Mixes. If what you want is a low-sugar, mid-afternoon pick-me-up solution, we also recommend FENIX XT™ to keep you focused and awake for the rest of the day.
Make a healthier grocery list
Supermarkets spend a lot of money in making effective marketing strategies trying to figure out how to get shoppers to buy more. A balanced diet starts by getting rid of the most unhealthy food on your shopping list. You can easily avoid those products by creating your recipes and by sticking only to the side aisles of the stores, where the fresh and most healthy food is. Try avoiding getting into the center aisles, where most of the overly sweet, unhealthy, and processed meals are.
Now that you are all set to go back to school with these tips, stay organized, focused, motivated, and make sure that when adding these habits to your busy schedule you continue to make them part of your lifestyle.
About ORGANO™
Founded in 2008 as Organo Gold, ORGANO™ is dedicated to bringing the benefits of the earth's nutritional riches to people throughout the world via its premium products that can be used daily to help to achieve a more energetic and healthier lifestyle.  
#WeAreOrgano