Perseverance always pays!
Last year, thousands of participants gave their best to succeed at the X Challenge. We are impressed and proud of the hard work and dedication everyone invested with one objective only: to live a healthier lifestyle.
For the last quarter of 2018, we had two participants with an outstanding performance on the challenge:
Congratulations to Gabby Rodríguez and José Parra!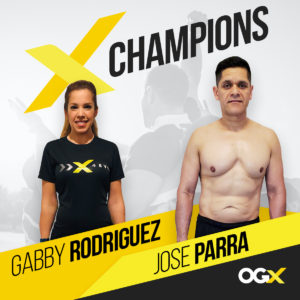 Through their sacrifices and efforts, these two X Challengers have each won a weekend stay for two at a 5-star hotel, which includes a spa treatment!
We sat down with them today to ask them about their achievements. Let us share with you some pieces of advice they had for everyone trying to reach their weight loss goals.
Ready to get inspired?
OG: When did you start the X Challenge and what are your results?
GR: I started the X Challenge on July 15th, 2018. I used to weight 149 lbs; now I weight 135. I have lost 14 pounds.
JP: I started the X Challenge on June 3rd, 2018. I used to weight 238 lbs; now I weight 184. I have lost 54 pounds.
OG: What encouraged you to sign up for the X Challenge?
GR: First of all, MY TEAM. But also losing weight.
JP: To enhance my health and to have a better lifestyle.   
OG: What was your greatest sacrifice while doing the X Challenge?
GR: My greatest sacrifice was that in the only day I'm free to rest (on Sundays), I had to wake up at 5 am for consecutive 12 weeks.
JP: To stop eating junk food and to discipline myself.
OG: What was the star product that helped you succeed in the X Challenge?
GR: OGX FENIX and Organic Green Tea.
JP: Without any doubt, it was OGX FENIX.
OG: What advice would you give to anyone new to the X Challenge?
GR: The commitment is with yourself and with no one else. Never mind about the sacrifices; instead, visualize the results you want, because the X Challenge does work.
JP: I'd invite them to try the program because it's been proven, worldwide, that it really works.
OG:  What's your favorite reward for living the X4Ever Lifestyle?
GR: I feel truly grateful for benefiting my children, giving them better food awareness and exercising habits. I changed thanks to this program, and now we all care about what we eat and have fun exercising together.
JP:  My HEALTH
OG: What's been your greatest achievement so far during the X Challenge?
GR: My greatest achievement has been seeing all those satisfied and happy faces through the X Challenge. I have used the global X Challengers platform and invited people from different countries to join this 12-week program. I've witnessed REAL results since day one, watching them transform their health, their weight
JP: To lower my body fat percentage from 41% to 11.4%.
OG: Who (or what) is your biggest motivation to lose weight and live a healthier lifestyle?
GR: My children. They are my gear, and my greatest motivation is to see in their minds the idea of a healthy lifestyle.
JP:  One of my biggest motivations were other X Champions because they showed me I could also turn into one. My other motivation is, and always will be, my three kids and my lovely wife.   
OG: Now that you achieved your goal in the X Challenge, are you setting new goals for yourself? If so, what are they?
GR: Yes, now that I've lost 14lbs, I want to gain 10 lbs of muscle mass.
JP:   Of course. This is only the beginning of something bigger. My commitment is to keep sharing this program and to create the biggest X Challengers community worldwide. Together, we can take the treasures of the Earth to the people of the world.
The Fast Five
What's your favorite OGX product?
GR: OGX VANILLA Shake
JP: OGX FENIX Shakes
What's your go-to OGX recipe?
GR: OGX Very Berry
JP: For a Chocolate Shake:
Water, banana, cinnamon, ice. and black coffee
For a Vanilla Shake:
Water, avocado, spinach, green apple, almond, and ice.
How often do you hit the gym? If not the gym, what's your favorite "exercise" activity and how often do you do it in a week?
GR: I hit the gym three times a week, and I do the X Challenge every day at home. My favorite exercise is Jumping Jacks.
JP: My favorite activity is the X Challenge. I never skip a single day
How many people in your family, your friends, your organization are taking on the X Challenge?
GR: More than 200
JP: We started with 10 people, and it has grown to 1000 participants worldwide.
On a scale of 1-10, how "healthy" do you feel now?
GR: 9
JP:  11
Finish this sentence: The X Challenge works because…
GB: It's a simple program, where you can even double your results, which are proven! Because we're a community in more than 13 countries, where all of us are the same. We help each other to achieve our personal goals and share one target: to improve our health, to lose weight, and to live a healthier lifestyle. When someone reaches their goal, we all celebrate together. The OGX program also rewards you for losing weight! It's wonderful, and it's all FREE!
JP: IT'S EASY, IT'S SIMPLE, IT'S OGX
About ORGANO™
Founded in 2008 as Organo Gold, ORGANO™ is dedicated to bringing the benefits of the earth's nutritional riches to people throughout the world via its premium products that can be used daily to help to achieve a more energetic and healthier lifestyle.
#WeAreOrgano