Translations: French | Chinese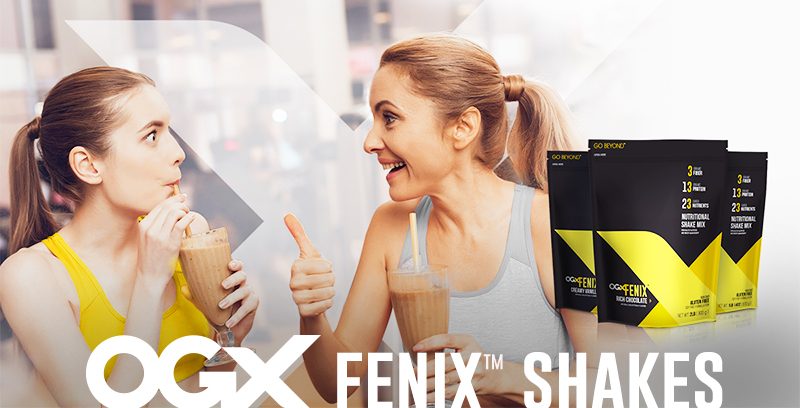 The OGX FENIX™ Nutritional Shake  Mixes are made of a special blend of proteins, vitamins, minerals, and fiber that are exclusive to Organo. With two flavors to choose from, these mixes can be used for fast, easy, and flavorful as meal replacements, providing you with the required nutrition to live a healthy lifestyle. Use them to help you maintain your desired weight and combine them with exercise to help you lose weight.

What makes our OGX FENIX Nutritional Mixes so unique?
They come in two delicious flavors. Choose your favorite between Creamy Vanilla or Rich Chocolate to power up your day.
They provide you with the same balanced nutrition and energy levels than a healthy meal, with only 250 calories.
When combined with an exercise and a healthy meal plans, the OGX FENIX™ Nutritional Mixes are your perfect tools to help you reach your desired weight.

They are convenient and quick to prepare, just mix a scoop with 300ml of milk in a shaker or a blender and you're ready to go in a few minutes.
They're versatile as they can be mixed with other ingredients to create delicious and nutritious pro meal snacks such as energy bars.
The OGX FENIX™ Nutritional Mixes contain concentrated Whey Protein, to assist you to build lean muscle and fight off hunger and Fibersol® Resistance Maltodextrin, a compound that helps your gut balance.

With their added proteins, vitamins and minerals,  the OGX FENIXTM Nutritional Mixes help to keep your blood sugar balanced, and maintaining your body's natural energy.
As any of our products, it is enhanced with the antioxidants in our Ganoderma to help you fight free radicals.

Market Fact
North America has the highest rate of obesity in the world, with more than a third of its adult population suffering from this condition. Did you know that being overweight can put you at a greater risk for heart diseases, strokes, type 2 diabetes and other serious illnesses or diseases?. Losing some extra weight by exercising and following a healthy diet reduces the risk of several diseases, improves your quality of life, and may increase your energy, mood, happiness and more.
Votre dose mensuelle de connaissance du produit » Secouer le poids supplémentaire avec les mélanges nutritionnels OGX FENIX™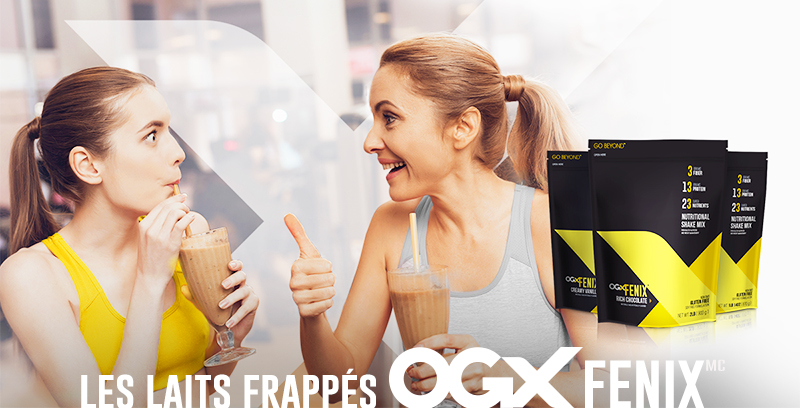 Les mélanges nutritionnels OGX FENIX™sont constitués d'un composé spécial de protéines, de vitamines, de minéraux et de fibres exclusivement préparé pour Organo. Avec deux choix de saveurs, ces mélanges peuvent être utilisés pour des repas rapides, faciles et savoureux, vous procurant la nutrition nécessaire pour vivre sainement. Utilisez-les pour maintenir le poids désiré et combinez-les à de l'exercice pour vous aider à perdre du poids.

Qu'est-ce qui rend nos mélanges nutritionnels OGX FENIXMC si uniques?
Ils sont offerts en deux saveurs. Choisissez entre chocolat décadent et vanille crémeuse pour alimenter votre journée.
Ils vous procurent la même alimentation et les mêmes niveaux d'énergie équilibrés qu'un repas sain, avec seulement 250 calories.
Conjugués à un exercice et à des repas sains, les mélanges nutritionnels OGX FENIX™ sont vos outils parfaits pour vous aider à atteindre le poids désiré.

Ils sont pratiques et rapides à préparer, il suffit de mélanger une cuillère avec 300 ml de lait dans un secoueur ou un mélangeur et vous êtes prêt à partir en quelques minutes.
Ils sont polyvalents, car ils peuvent être mélangés à d'autres ingrédients pour créer de délicieuses collations nutritives comme des barres énergétiques.
Les mélanges nutritionnels OGX FENIX™ contiennent de la protéine de lactosérum concentrée, pour vous aider à créer un muscle maigre et à combattre la faim et la maltodextrine de résistance Fibersol®, un composé qui aide votre intestin à s'équilibrer.

Avec leurs protéines, vitamines et minéraux ajoutés, les mélanges nutritionnels OGX FENIXMC aident à maintenir l'équilibre de votre glycémie et l'énergie naturelle de votre corps.
Comme tous nos produits, il est amélioré avec les antioxydants de notre ganoderma pour vous aider à lutter contre les radicaux libres.

Faits relatifs au marché
L'Amérique du Nord affiche le taux d'obésité le plus élevé au monde, plus d'un tiers de sa population adulte souffrant de cette maladie. Saviez-vous que l'embonpoint peut vous rendre plus vulnérable aux maladies cardiaques, aux accidents vasculaires cérébraux, au diabète de type 2 et à d'autres maladies graves? Perdre un peu de poids supplémentaire en faisant de l'exercice et en suivant un régime alimentaire sain réduit le risque de plusieurs maladies, améliore votre qualité de vie et peut accroître votre énergie, votre humeur, votre bonheur et plus encore.
月度飲用量產品知識' OGX FENIX™ 營養奶昔助您輕鬆抖落額外體重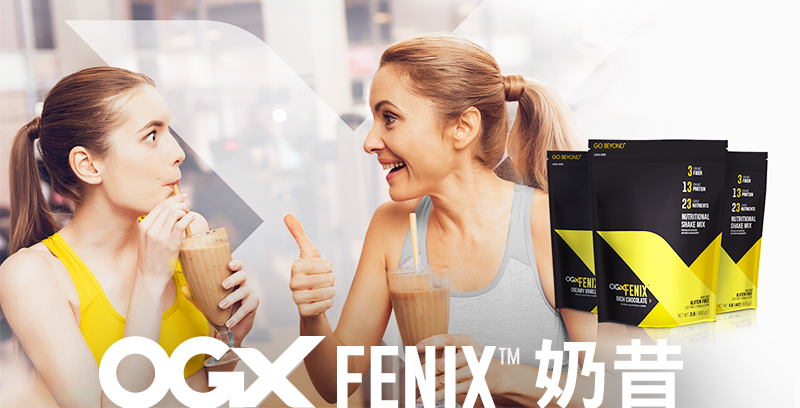 OGX FENIX™ 營養奶昔是用 Organo 所獨有的蛋白質、維他命、礦物質和纖維以特別方式調配而成。 這些奶昔產品分兩種口味,可作為您的膳食替代品,快捷、方便、美味,為您的健康生活方式提供必要的營養。 使用這些奶昔產品有助於您保持您理想的體重,而且將其與科學的運動結合起來,還會為您減肥瘦身助一臂之力。

OGX FENIX™ 營養奶昔如此獨特,其原因何在呢?
它們分為兩種美味的口味。 奶油香草味或醇厚巧克力味:您可任選其中一種口味為您的每一天注入活力。
這兩款口味的奶昔具有和一份健康膳食同樣均衡的營養和能量,但熱量只有 250 卡路里。
若與科學運動和健康膳食計劃結合運用,OGX FENIX™ 營養奶昔將會成幫助您實現理想體重的完美工具。

使用起來非常輕鬆快捷,只需將一勺 OGX FENIX™ 營養奶昔沖劑與 300 毫升牛奶混合,通過食物攪拌器或調配機攪拌,幾分鐘之內您即可享用美味可口的營養奶昔。
它們可與豐富多樣的其他成分混搭,創造出美味可口而又營養豐富的強化餐點小吃,比如能量棒。
OGX FENIXTM 營養奶昔含有:濃縮乳清蛋白,可幫助您在塑造瘦美肌肉的同時對抗飢餓感;以及 Fibersol® 抗性麥芽糊精,該化合物可幫助您實現腸道平衡。

OGX FENIX™ 營養奶昔通過添加的蛋白質、維他命和礦物質,可幫助您保持血糖平衡并維持您體內的自然能量。
正如我們的任何一款產品一樣,它還含有我們靈芝成分的抗氧化劑,有助於您有效對抗自由基。

市場現狀
北美是世界上肥胖率最高的地區,超過三分之一的北美成年人遭受著肥胖症的痛苦。 您是否知道超重會加大您患上心臟病、腦卒中、2型糖尿病及其他嚴重疾病的風險? 通過進行科學的健身鍛鍊并遵循健康的飲食方式來減掉一些額外的體重,這樣做可以降低您患上多種疾病的風險、提高您的生活品質,還可以增強您的精力、改善您的情緒、給您帶來幸福愉悅感以及更多其他益處。不試不知道,奶昔真奇妙!
*https://www.cdc.gov/obesity/data/adult.html
About ORGANO™
Founded in 2008 as Organo Gold, ORGANO™ is dedicated to bringing the benefits of the earth's nutritional riches to people throughout the world via its premium products that can be used daily to help to achieve a more energetic and healthier lifestyle.  
#WeAreOrgano