It was on April 22 of 1970 that a group of citizens came together to create Earth Day, intending to make people aware of their ecological footprint. Almost 50 years later, ORGANO created Bags for Life, our humble grain of sand to preserve the treasures of the Earth while improving the lives of everyone in it.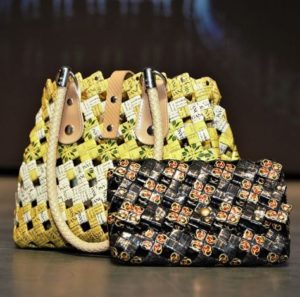 The best part of this initiative: we're inviting everyone to join in! Doesn't matter where in the world are you, you can be a part of this new campaign as part of our Global OG Family.
Are you ready to contribute? Here's all you need to know:
An empowering and sustainable initiative
Bags for Life empowers marginalized women to engage in a meaningful livelihood while promoting sustainable production.
Our goal is to gather as many empty sachets of OG Classic Beverages as possible and give them to an non-profit organization that provides work to unemployed women in impoverished urban areas. These women craft purses, or Bag of Life, out of the sachets and are paid by ORGANO for every piece they finish.
Committed to our social responsibility of giving back to our community, we've and will continue auctioning the produced Bags of Life during OG's regional conventions, with most of the proceeds going back to the women who crafted them.
As you can see, this initiative has two beneficial ends: It provides an income to marginalized families, and it promotes better recycling habits within our community.
Taking action
By the end of the year, ORGANO has set a goal to produce 5000 Bags for Life. Each piece requires a minimum of 600 empty sachets, which means that we need to collect 3 million sachets.
We cannot do this alone, and we need your help!
All you need to do to join this amazing global campaign is to donate the used sachets of your favorite OG products by mailing them or dropping them off at your nearest distribution center or regional office.
Distributors who donate their sachets to this initiative will receive a special invitation to attend the auctions for our Bags for Life and will get discount vouchers that can be redeemed for the merchandise being sold at our regional events.
Take action today by visiting the Bags for Life website! Find further details about the campaign, learn how to cut and clean your sachets properly, and see where to mail them.
Take an extra step
Looking for an additional way to help the environment on Earth Day? Quit getting your beverages on one-time-use plastic cups and switch to long-lasting solutions. Our Business Tools website offers you OG-branded water bottles, travel tumblers, shakers, and mugs to enjoy your favorite products everywhere you go while promoting more environmentally-friendly habits!
Ready to become part of Bags for Life?
Support and donate your empty sachets. Together, we can Make a difference!
About ORGANO™
Founded in 2008 as Organo Gold, ORGANO™ is dedicated to bringing the benefits of the earth's nutritional riches to people throughout the world via its premium products that can be used daily to help to achieve a more energetic and healthier lifestyle.
#WeAreOrgano