It's pumpkin season!
Now that it's time to show your carving skills, there's no reason to let any part of your pumpkin go to waste.
When you carve out your pumpkin, separate the pulp from the seeds and put it in the fridge. Whenever you have the time, put it through the food processor to make a fresh pumpkin puree and prepare one of these delicious autumn treats!
Pumpkin Spice OGX Shake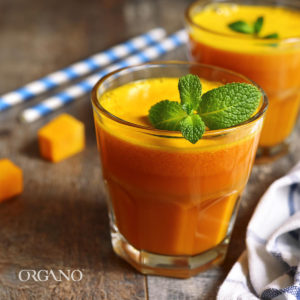 1 scoop

OGX Vanilla Shake

1 banana

¼ teaspoon ground cinnamon

¼ teaspoon nutmeg

¼ teaspoon ginger

⅛ teaspoon cloves

½ cup low fat milk

½ cup pumpkin puree

1 cup ice
Blend all ingredients and enjoy.
ORGANO™ Pumpkin Spice Latte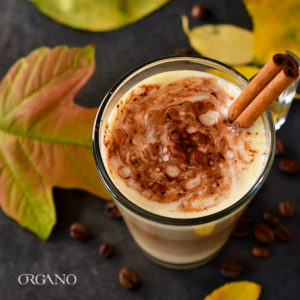 1 sachet ORGANO™ Gourmet Café Latte

1 cup water

1 Tbsp pumpkin puree

1/2 tsp pumpkin pie spice
Add water, pumpkin puree, and pumpkin pie spice on a saucepan and mix well over medium heat. Remove the saucepan from the heat and whisk your ORGANO Gourmet Latte.

Pour mix into your

OG10 limited edition Taste The Gold White Ceramic Mug

and enjoy your beverage in a bold geometric design with a golden-plated handle.
Pumpkin Spice Bars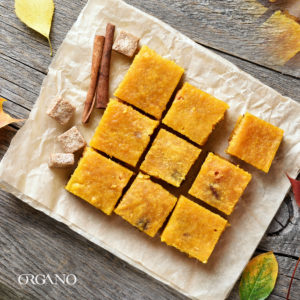 1 scoop OGX FENIX™ Vanilla

¾ cup raw pecans

½ cup raw almonds

¼ cup roasted pumpkin seeds

1 cup pumpkin puree

1/2 tsp pumpkin pie spice

1 pinch sea salt
Process the pecans, seeds, and almonds in a blender until no large pieces remain. Place in a bowl. Add pumpkin puree to the nut mix along with the scoop of OGX FENIX™ and sea salt.

Process until the mix starts to clump together.

Line up a loaf pan with wax paper or a plastic wrap. Pour in the mixture and press down firmly. Refrigerate for 30 minutes and cut into 16 slices.
You can also prepare a delicious snack by washing your pumpkin seeds, drizzling them with two spoons of olive oil, and put them in the oven for 15 minutes over 180°C.
Make the most delicious pumpkin spice desserts with ORGANO™ and have a happy Halloween season!
About ORGANO™
Founded in 2008 as Organo Gold, ORGANO™ is dedicated to bringing the benefits of the earth's nutritional riches to people throughout the world via its premium products that can be used daily to help to achieve a more energetic and healthier lifestyle.
#WeAreOrgano