Everyone's talking about it! beU by ORGANO is now available with a complete anti-aging system that is 100% Natural! As a Distributor, this brings a once-in-a-lifetime opportunity to expand your business, offering your customers the chance to feel comfortable in their own skin and unleash their natural beauty with a treasure #BrighterThanGold!
But the addition of beU to ORGANO™ didn't happen by chance. This arrival comes after extensive market research to help you boost your sales with a NEW alternative to our OG Classic Beverages and Nutritional lines. To help you take full advantage of this, we want to share some of this research with you.
Global skincare market is $141 billion US Dollars in 2019, estimated to grow to $180B in the next 7 years

Millennials continue to be concerned with sustainability, seeking natural ingredients and cruelty-free products

Botanical is a growing trend inside the health and wellness market.

Though the facial skincare industry usually targets the female population as their biggest market, there are

studies that suggest

some men spend much as women in these products.
Taking these facts into consideration, beU skincare is crafted to meet the needs of contemporary consumers. It's formulated with all-natural ingredients and not tested on animals, bringing our consumers the peace of mind that beU is gentle not only to their skin but to the planet.
With a full line of anti-aging products formulated for all skin types —  Cleanser, Serum, Mask, and Moisturizer — beU skincare creates a full system to provide people with the essential elements to enhance their skin's health and unveil its natural beauty.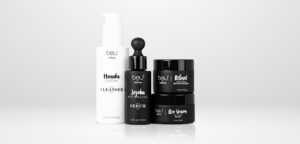 Are you ready to join the growing market of skincare? Share the beU products, and invite someone to become an ORGANO Distributor today!
About ORGANO™
Founded in 2008 as Organo Gold, ORGANO™ is dedicated to bringing the benefits of the earth's nutritional riches to people throughout the world via its premium products that can be used daily to help to achieve a more energetic and healthier lifestyle.
#WeAreOrgano