It's Thanksgiving in Canada!
It's time to put the turkey in the oven, turn on the heat, and celebrate one of the most beloved autumn holidays by our family side.
As a global company that is based in British Columbia, Canada, this is one of our favorite celebrations throughout the year, so we decided to share some of our OG recipes of what we'll be having on tonight's menu with our Global Family!
Savory ORGANO™ Coffee Sauce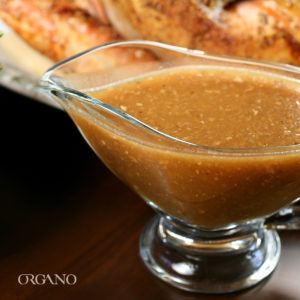 We're staring by spicing up the turkey with the staple flavor of ORGANO™
1 sachet

ORGANO™ King Of Coffee

3 oz. hot water

3 Tbsp wholegrain mustard

2 large cloves of garlic

6 shallots

4 oz. red cooking wine

8 oz. turkey stock

2 Tbsp soft brown sugar

1.5 Tbsp butter

Vegetable oil

Salt and pepper to taste
Peel and finely chop the shallots, and peel and crush the garlic.

Put the shallots in a heavy-bottomed frying pan with a little vegetable oil and fry gently until pale golden brown. Add the garlic, mustard, wine, coffee, stock and seasoning and bring to the boil.

Turn the heat down to a gentle simmer, and leave the liquid bubbling until reduced by half. Season to taste, stir in the butter and sugar before serving.
Organic Green Tea Vinaigrette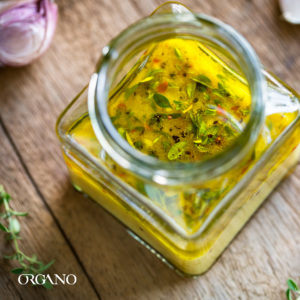 Add a soothing flavor to your salad with fresh ingredients and the soft aroma of tea.
1

ORGANO™ Green Tea

bag

Sea Salt and Freshly Ground Pepper

2 Tbsp. of Red Onion, minced very finely

1 tsp. Honey

½ tsp Dijon mustard

2 Tbsp. apple cider vinegar

½ cup extra virgin olive oil

2 Tbsp chopped herbs (oregano and fresh parsley)
Steep your Green Tea in ¼ cup of hot water for approximately 10 minutes. Let cool.

In a large mixing bowl, combine the rest of the ingredients. Once mixed, pour in the steeped water. Mix well with a whisk or large fork.

Allow to sit for at least 3-4 hours before serving to let flavors infuse.
ORGANO™ Vanilla Rice Squares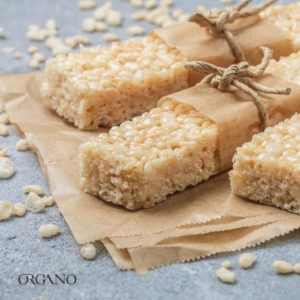 Add a sweet but healthy dessert that the whole family will love.2 Tbsp butter
⅔ cup marshmallows

3 cups crisped rice
Melt the butter in a saucepan over low heat.

Add marshmallows and stir until completely melted. Remove from heat and stir in the content of the OGX FENIX™ Shake Sample Sachet.

Add crisped rice and stir until well coated.

Press the mixture into a 13x9x2 inch pan coated with cooking spray. Let the mix cool for at least an hour and cut into 2-inch squares.
If you prefer the chocolate version, watch this video.
End the day with by adding some extra support to your body with the great taste of pink lemonade!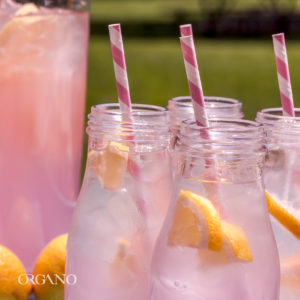 With such delicious recipes and all the family together, it's easy to eat more than you should on the holiday season. Help you and the ones you love to get the proper cellular detox with FENIX DX™!
Lastly, we invite you to get cozy, gather with your family, and relax with us. Even when you don't celebrate Thanksgiving Day, every day is a good opportunity to be thankful for what we have!
About ORGANO™
Founded in 2008 as Organo Gold, ORGANO™ is dedicated to bringing the benefits of the earth's nutritional riches to people throughout the world via its premium products that can be used daily to help to achieve a more energetic and healthier lifestyle.
#WeAreOrgano