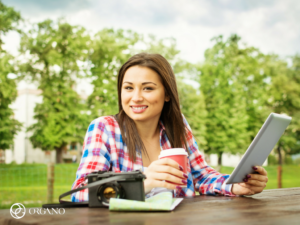 While Organo brings the treasures of the world to the people of the world – somewhere in the world, right now, students are hard at work and back to school! The curriculum, class sizes, and students spanning the globe come in a variety of forms – but the excitement, eagerness (and perhaps anxiety) experienced on the first day of school is the same for children everywhere. Let's take a glimpse at the back-to-school experience across countries and continents. 
China: Children typically start school at age 2, and the school year consists of 9.5 months, beginning in September and running until July. The school day starts around 7:30am and gets out around 5pm. The Chinese curriculum is the most rigorous in the world. In general, English is generally introduced in the third grade, although most parents introduce it sooner at home. Many Chinese schools have classes on Saturdays in math or science, which most children attend (those who don't take extra tutoring sessions after school).
Mexico: The school year starts in September and ends in June and, besides summer vacation, the only other break is Christmas break, which lasts three weeks. The school day usually starts at 8am and gets out around 2:30 or 3pm. Class sizes are between 25 and 30 students. Depending on the school, half of the day may be taught in Spanish while the rest of the day is in a second language such as English. More vocational training is taught in the high school system so students can earn a living after graduation.
Australia:  Back-to-school supplies are the perfect stocking stuffers for Australian children, who start their new school year shortly after the New Year.  A typical school day is from 9am to 3:30pm, with an average class size between 16 and 18 children. Music and dance are required each week for one term during every year, and a tremendous emphasis is placed on protecting the environment as well. With the harsh Australian climate, many schools have adopted a "No Hat No Play" policy, and if students do not bring a sun hat to school during the summer months, they are not allowed to play!
India: Many young children in India begin their school day with yoga. It helps them relax mentally and physically and encourages discipline throughout the rest of the day. The school year in India is from April to March of the next year (with a two week winter break at the beginning of the year). Mathematics, Indian history, geography, and sciences are taught but are almost minor in comparison to the emphasis placed on social and moral values. The focus in secondary school grades is on environmental awareness, sciences, technology, and traditional elements of Indian culture.
Brazil: It is hard enough for most kids to wake up on a school day, but in Brazil a typical school day starts at 7am! The Brazilian school year usually begins the first week of February, and lasts through June, beginning again from August until December.  Because school gets out at noon, most students go home to enjoy lunch with their families. One thing for sure, it is the game of soccer played on every schoolyard, as it continues to be their number-one sport!
While switching from a summer to a school schedule can be stressful to everyone in the household, a cup of your favorite ORGANO brew will surely help relieve some tension, and generate some new back to school energy!