Are you loving your new beU by ORGANO skincare line? Everyone is going crazy about it!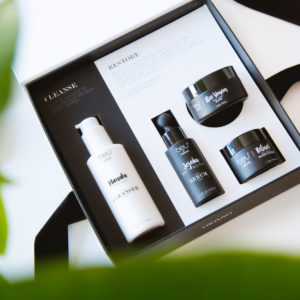 We've already shared with you how to use the products from the line to get all the benefits of anti-aging ingredients. Now we want to tell you WHY this Cleanse, Restore and Moisturize system made for daily use is so important to follow!  Each product is designed to work in harmony to create the very best results.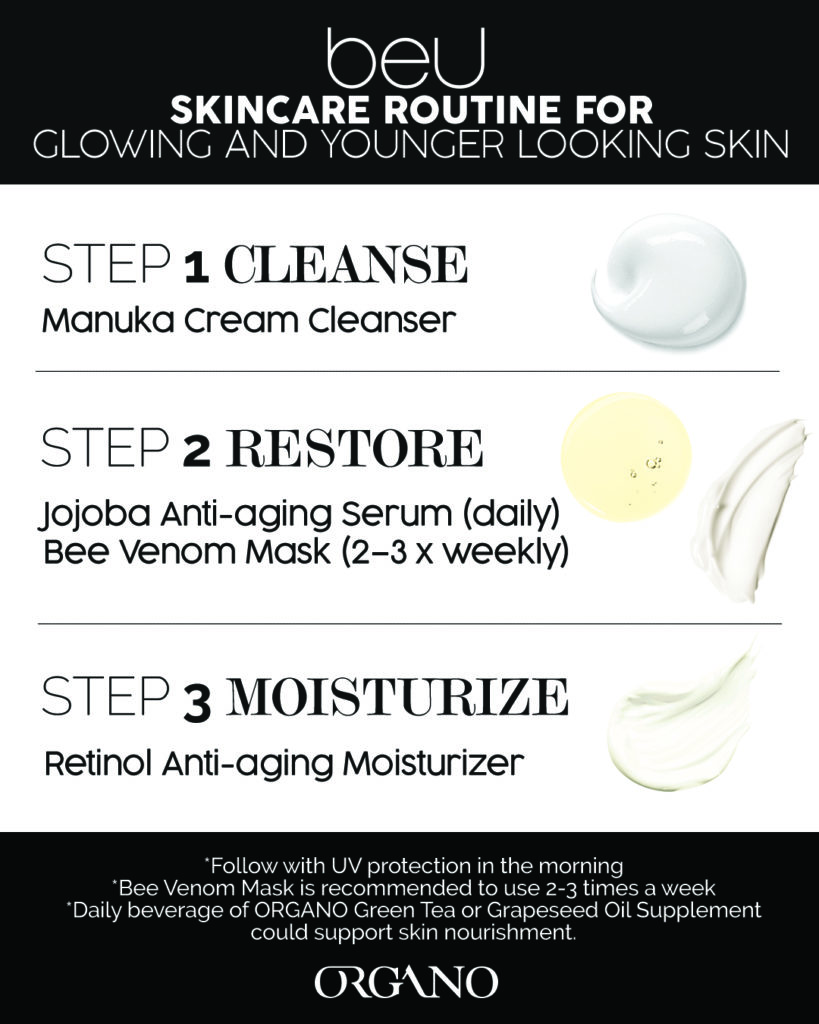 Pampers you 24/7
Your skin is exposed to pollution, sun damage and stress all day long. It also sheds daily, as part of its natural renewal process. Your products help you improve the appearance of your skin and cleansing it twice daily keeps dust, dead skin cells and other pollutants from accumulating in your skin. Even when you don't feel it, your beU by ORGANO products are working for you all day long and overnight.
Maintains long-term results
Since the first time you applied your beU products, you probably felt their smoothing benefits and enjoyed the fragrance they leave behind. But more profound anti-aging effects don't happen overnight. To notice the restoring actions of these products, you have to create a routine, so little by little, you'll start seeing the difference in the appearance of your skin. It's easy to maintain these results, as long as you commit to your daily skincare routine, just as you commit to eating healthy and exercising when you want to keep a fit body. Remember everything is a process, and beautiful skin takes time.  The skin is an amazing organ, it responds quickly to a little tender loving care.
Prevents future problems
It's always easier and inexpensive to prevent future skin conditions. By starting to follow a healthy skincare routine today, you'll delay many issues that come with aging. Your skin will be hydrated enough to feel soft and supple all the time and you'll hardly experience dryness at any point in your life.  You'll also boost your production of collagen and elastin, that will diminish the appearance of wrinkles and fine lines in the future. It's never too early to start following an anti-aging skincare routine, as you'll be building good habits that will have long term benefits and results.
Supports all skin types
It's easier to maintain results when following a routine. Don't wait to notice unwanted conditions in your skin to start using good-for-you, natural skincare products. Whether you have dry, oily, combination, or normal skin, you can personalize your beU by ORGANO routine to help you tackle and prevent each problem these skin types can bring.
Provides your skin with all-natural ingredients
Just as important as following a healthy routine for your skin, is considering what type of ingredients are you applying on it. With ingredients directly sourced from New Zealand, beU by ORGANO gently extracts the best vitamins and oils from nature to take care of what you put in your skin. This way, every time you cleanse, restore and moisturize, you can have the peace of mind that your body and the planet are being pampered with the best products.
Are you ready to kickstart your skincare routine? Find the four hero products of beU by ORGANO in your beU Gift Set and get #BrighterThanGold results that will last a lifetime!
About ORGANO
Founded in 2008 as Organo Gold, ORGANO is dedicated to bringing the benefits of the earth's nutritional riches to people throughout the world via its premium products that can be used daily to help to achieve a more energetic and healthier lifestyle.  
#WeAreOrgano