As we approach mid-spring, it's now time to celebrate Easter. And this year, the Easter Bunny arrived a few days earlier to leave us some of her favorite recipes. For everyone following the X4ever Lifestyle, fear not! — these treats are made to keep you on track as you continue to follow a healthier path!
ORGANO™ Easter Rice Squares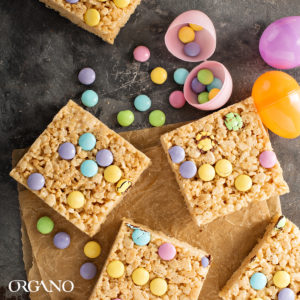 1 scoop  

OGX Chocolate Shake

⅔ cup marshmallows

3 cups crisped rice

¼ cup sugar coated chocolate chips (Optional)
Melt marshmallows in a saucepan over low heat and stir until completely melted.

Remove from heat and stir in the Chocolate FENIX™ powder.

Add crisped rice and stir until well coated. For kids, add some sugar-coated chocolate chips!

Press the mixture into a square pan, let it cool for at least an hour, and cut into four squares.
Easter Energy Bites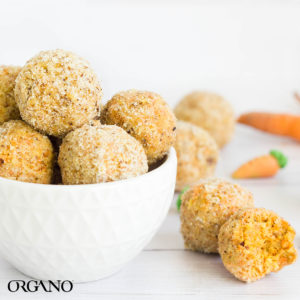 1 scoop  

OGX Vanilla Shake

1 cup instant oats

½ cup crunchy peanut butter

⅓ cup honey

½ cup shredded Carrot
Add all the ingredients into a food processor and mix until they are all combined.

Refrigerate for 30 minutes, or until the mixture is firm enough to take small pieces and give them a round shape. You'll get 16 Energy Bites from this mixture!
Pink Lemonade Easter Shake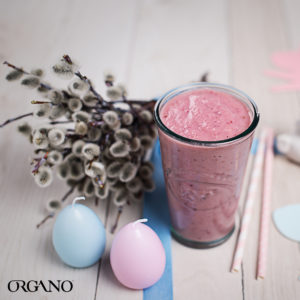 1 stick

FENIX DX™

1 scoop OGX Vanilla Shake

1 banana

6 strawberries

½ cup almond milk
Mix all ingredients together in a blender and enjoy.
Easter Chocolate Extravaganza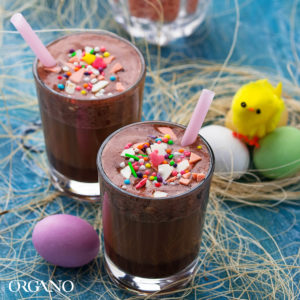 1 scoop OGX FENIX™ Chocolate

1 cup Semi-Skimmed Milk

¼  cup Frozen dark sweet cherries

1 tsp Coconut extract

1 tsp candy sprinkles (optional)
Mix all ingredients together in a blender. Once blended, pour into cups and decorate with sprinkles.
Hop into the X4ever Lifestyle and invite your friends and family to join this healthy way of life this Easter with ORGANO!
About ORGANO™
Founded in 2008 as Organo Gold, ORGANO™ is dedicated to bringing the benefits of the earth's nutritional riches to people throughout the world via its premium products that can be used daily to help to achieve a more energetic and healthier lifestyle.
#WeAreOrgano