The turnover of a new calendar year is the perfect metaphor to restart your life. New Year's resolutions are based on the idea that a new calendar year is an opportunity to make positive changes in your lifestyle. At ORGANO™, we want to promote the idea of a long-lasting lifestyle change that leverages a New Year's resolution to jumpstart permanent changes.
Introducing the X Challenge! The ORGANO™ X Challenge is lifestyle program that encourages participants to make healthier choices every day — to live a #X4Ever lifestyle. Unlike other challenges, the X Challenge doesn't just stop with the first two weeks or 30 days — the X Challenge evolves from stage one to stage two so you can live the X4Ever lifestyle long term. During the past year, X Challenge members have shed a total of 6,710 pounds!
This new year is a great time to get started with the X Challenge — not only because of the inspiration of new year's resolutions. Right now, ORGANO™ is running a Shake If Off promotion. With the Shake It Off contest, you could win a $500 e-voucher for a whole new wardrobe. Plus, the OGX FENIX™ kits are up to 30% through the end of March 2018. That's on top of all the rewards the X Challenge has in both stages.
Stage 1: FENIX Challenge
The FENIX Challenge portion of the X Challenge is the jumpstart, the extra-exciting part of the journey. Here's how you get started with the X Challenge:
Sign up at http://www.X4ever.club.
Complete your profile with weight loss goal and "before" photo.
Substitute 2 OGX FENIX™ shakes for meals each day.
Round out your diet with healthful meals and snacks.
Start a regular exercise program.
Log back on to X4ever.club every week to share your progress and upload an updated photo of yourself, and don't forget to share your X Challenge journey on social media. Here's how the X Challenge rewards structure works:
10 lbs lost: "I lost 10" with OGX T-shirt
25 lbs lost : "I lost 25" with OGX Tshirt and OGX Hat
50 lbs lost: "I lost 50" with OGX Tshirt and OGX Sling bag
100 lbs lost : "I lost 100" with OGX and OGX Hoodies
In addition to each weight loss milestone, ORGANO™ X Challenge offers bigger quarterly rewards. Each quarter, three members are chosen based on their weight loss progress and testimonials at X4ever.club. Quarterly winners receive:
-Recognition on ORGANO™ social media
-On-state recognition at special ORGANO™ events
– Weekend stay for two at 5-star resort and spa.
ORGANO™ X Challenge will also recognize five members annually that have become X Challenge Champions. These powerhouses receive:
– Trip for two to an exotic location and $500 spending money.
– On-stage recognition at 2018 ORGANO™ Expo event.
Stage 2: X4Ever
Once you reach your weight loss goal, you move into the X4Ever stage of the X Challenge. This is the part that so many called "diet" plans fail. The X Challenge wants to reward you for maintaining a healthier lifestyle — long after those initial pounds are shed.
In the X4Ever stage, you participate by:
Replacing one meal a day with OGX FENIX™ nutritional shake.
Eat two healthy meals.
Prepare two pro-meal as snacks for the rest of the day.
Maintain your exercise routine.
Stay active on the #X4ever social community page with weekly posts.
Log into X4ever.club twice a month to share progress.
If you stick with the X4Ever lifestyle, you'll see big changes in your body and health — and you'll also be reward by ORGANO™ with:
$200 coupon for every 12 months you stick with the #X4Ever lifestyle
X4Ever bracelet
X4ever t-shirt
Annually, five winners will be chosen from X4Ever members to win:
A free ticket to the ORGANO™ EXPO Event.
X4Ever champion Award present at EXPO.
Feature in GOLD Magazine.
X Challenge Winners
Think the X Challenge sounds wonderful, but still wondering if people actually stick with it? To prove this is all achievable by real humans, meet some of our previous X Challenge winners!
Robert Becerra III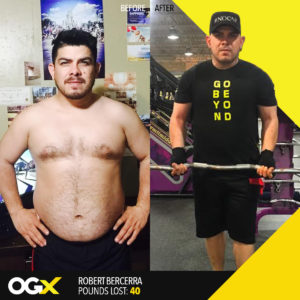 Rewards: $200 spa credit and 1 night accommodation at The Ritz Carlton Hotel in Chicago
Leslie Drake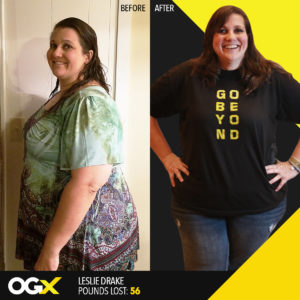 Rewards: $200 spa credit and 1 night accommodation at 21c Museum Hotel in Oklahoma City.
Oscar Rosales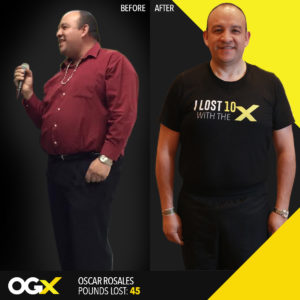 Rewards: $200 Spa credit and 1 night accommodation at The Scarlet Huntington.
Terri Couser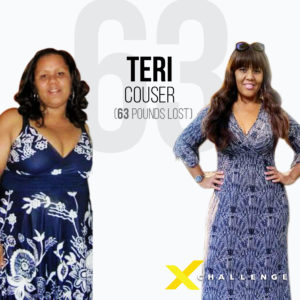 Rewards: $200 spa credit and 1 night accommodation at The Rittenhouse Hotel in Philadelphia.
Maurino Urmwoanpiy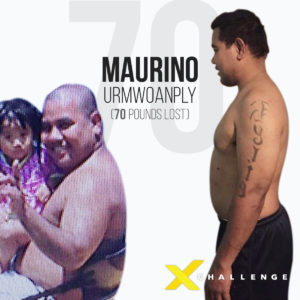 Rewards: $200 spa credit and 1 night accommodation at Mauna Lani Bay in Hawaii.
Joleen Sarmiento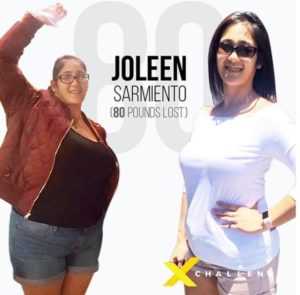 Rewards: $200 spa credit and 1 night accommodation at Mauna Lani Bay in Hawaii.
X Challenge Testimonials
Still not convinced by the discounts, rewards, and a healthier new lifestyle? Read what X Challenge members had to say about their X4Ever lifestyle.
"It's very nice to improve your mood and even speed your metabolism with the use of OGX Shake."
~Manolis Mavrogiannis
"This week has been quite challenging as it's my first proper week, but the shakes are delicious and very filling so I don't feel unsatisfied in my diet. I have drank lots of water. I feel much lighter and in this first week I have managed to lose 7 pounds which I'm so happy about."
~Samaela Wuta-ofei
"It's been a crazy last few weeks with huge temptations at Thanksgiving, but I was able to keep my portion control in motion and eat healthier this year! Drinking two shakes a day, working out, seeing them inches drop. I finally got into a medium in shorts and in pants depending on style/brand, of course, but I've never ever been able to fit in a medium ever before!!!! So happy!"
~Krystal Ballin
"I've always had issues with my weight, but this is the highest I've ever been. My friends, and ORGANO™ sponsors, Joe and Amy Rogan introduced me to the OGX FENIX™ program, not only as a way to supplement my ORGANO™ business but also as a personal weight loss journey. With that, and my exercises and some massive supporters, I've been losing the weight and feeling better and better every day. Granted, it hasn't been easy, nothing is, but it's so far been a great adventure, and I look forward to continuing that adventure. Especially with Joe, Amy and Ron."
~Leigh Hartung
"I've been Buying some smaller clothes. Losing inches here."
~Michelle Thomassen
Sign Up for X Challenge
There's no reason to delay your healthier body and lifestyle. Sign up for the X Challenge at www.X4ever.club, order your OGX FENIX™ kits, and get started losing pounds and earning rewards today!
About ORGANO™
Founded in 2008 as Organo Gold, ORGANO™ is dedicated to bringing the benefits of the earth's nutritional riches to people throughout the world via its premium products that can be used daily to help to achieve a more energetic and healthier lifestyle.  
#WeAreOrgano