It's International Woman's Day!
To all the woman who form part of the OG Family, we just want to say we are so honoured to have you on our team.
To commemorate this day, we bring you the stories of two of our Distributors, and hope you feel inspired to succeed with ORGANO™ after reading them!
Riguvilda Avila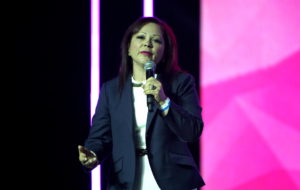 Riguvilda and her husband owned a gift store for four years. They first knew about ORGANO™ when, while eating in a restaurant with their pastor, they saw him pouring a sachet in hot water. Riguvilda and her husband asked the pastor about the product, and he invited them to their first ORGANO™ meeting.
Unfortunately, two weeks later, Riguvilda's husband got sick with Bell's palsy. With half of his face paralyzed, she had to take the lead and start the business by herself. These were hard times for her, as she'd always stood behind her husband, and now it was she who had to give presentations, understand the compensation plan, and show him she could rely on her on having his back.
During this time, Riguvilda noticed that OG was an excellent opportunity for women like her. ORGANO™ gave her the chance to support her household without the need of working more than 40 hours a day. She had the freedom to work without a boss, choose her own schedule and the hours she wanted to work, and spend more time with her loved ones.
"I always say this is the time for women to be a positive influence on the ones we love and in our society," says Riguvilda, and she tells us about the great respect she has for Mrs. Earlene Buggs: "I was so impacted in the way she cares for helping us women to grow and be the best version of ourselves." She says Mrs. Buggs inspired her to start working closely with women close to her, like her six sisters.
Riguvilda also admires Mrs. Blanca Sachtouras for her kindness, Mrs.Kim Bean for her capacity of always staying positive, Mrs.Maru Carbajal, for her examples and advice, and Mrs. Casey Nilsen, for her determination.
For every woman starting her own business, Riguvilda's words are: "There are no excuses for women not to possess greatness. It all starts with how you see yourself." She encourages everyone, no matter their background, to work hard and focus their energy to make things happen. "To have a successful business I, as a woman, know I can't be a victim and have to start looking at myself as a hero. Say it with me: It's My time!!"
We asked Riguvilda where does she see herself in 10 years from now. She answered she wants to make an impact on thousands of women, and share with them the amazing OG opportunity.
"Women are meant to be a positive influence, first for ourselves and then in our home," Riguvilda concludes. "Then we walk out from home to be an impact and a blessing in every woman's life. No matter what, we never give up."
Nikki Ideta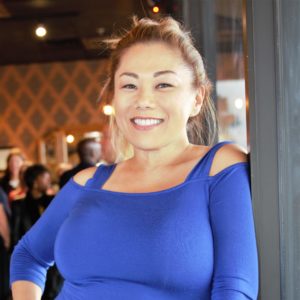 While playing Words With Friends on her phone one day, a stranger messaged Nikki a text that asked only: "Do you like coffee?" After that, one thing led to another, and a few days later Nikki was signing up for the OG opportunity.
Before joining OG, Nikki lived in a very tight financial situation. This didn't stop her from investing half the money of her monthly mortgage on her golden pack, and luckily, her bravery paid off. Though she didn't know about the DVD's until later, she started growing her business by herself by knocking on doors and contacting the people she knew. She learned later the models of network marketing and began hosting meetings at home.
Nikki sees in ORGANO™ an opportunity for every woman. She says one of the most considerable advantages of the company is that it empowers women, and makes them feel appreciated for what they do. Contrary to most workplaces, OG recognizes how significant women Distributors and women in corporate are, and helps them to reach their full potential.
Two women in ORGANO™ Nikki admires are Mariane Noad and Casey Nilsen. Marian has always been an open and loving person. Nikki describes her as a genuinely good person who has always been a carrying and non-judgemental leader. As for Casey, Nikki admires her for her authenticity, drive, determination, and leadership.
Nikki advises all women starting a business with OG to focus on what they want: "OG has the proven leadership and the right ingredients for you to become successful." Most of all, she encourages everyone to work hard to reach the outcome we all know is going to happen.
In ten years from now, Nikki aims to have an incredible worldwide business and to have at least one of her three children in ORGANO™. She hopes that with OG she will give her kids the opportunity to have financial freedom and never to experience hardship.
Casey Nilsen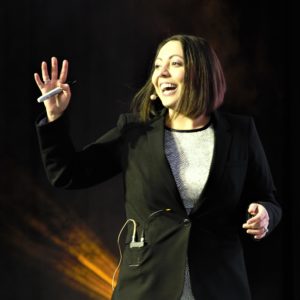 ORGANO™ came to Casey's life with perfect timing. She was a full-time college sophomore and was working half-time for the minimum wage. One day, a stranger gave her dad three samples of OG Gourmet Latte. He gave them to her mom who drank them and to everyone's surprise, she started sleeping better and feeling great. Casey, without any business, credibility, or money, saw this as an opportunity for a better future.
Casey loves being an ORGANO™ businesswoman, as she describes the company as a true "Economy Equalizer," providing equal opportunities for both men and women. "ORGANO™ embraces women from all different backgrounds, cultures, and levels of experience. Organo gives women a major advantage in the marketplace," says Casey. Providing women with the flexibility to work from home, and inviting women with all levels of education and family structures, Casey knows ORGANO™ offers "opportunities for leadership, financial independence, and freedom," as she is happy to have found ORGANO™:  " Finally there exists a company that not only allows women in business to shine, to lead and to grow an unlimited income, they actively support and encourage it!"
One of the women Casey admires inside the OG Family is Mrs. Earlene Buggs, whose tenure in the industry and her willingness keep growing in the business inspire her. "She tells the truth and has full heartedly started a movement with the iWin events providing a platform for women in business to grow, to be celebrated and to own their power as leaders, business women and to understand the incredible impact we have on the world. Teaching and encouraging women to collaborate to make a positive and powerful difference, she is an advocate for women everywhere," says Casey.
Deanna Nilsen, Casey's mom, is also an inspiration, as she has set an example in encouraging everyone to be authentic. Casey tells us about her mom: " In a world that is in desperate need for love, she has fully embraced the ORGANO™ culture and proven that loving and caring about your people should always be a top priority in business."
For every woman starting their own business, Casey wants them to know how strong, powerful and impactful they are. "Believe in yourself," she says, "you are capable of imparting and impacting great change in the world. It all starts with believing in yourself and not allowing anyone to diminish your value or put limitations on your dreams. We here at ORGANO™ are celebrating your courage, your capabilities, and your success!"
In ten years, Casey sees herself continuing growing as a businesswoman and as a leader. "I have learned that servant leadership is a constant and never-ending pursuit of excellence, service, and responsibility."
We wish a happy International Women's Day to all the female members of our OG Family, as well as we encourage you to share your story with us!
In your opinion, what are the greatest opportunities ORGANO™ offers to women around the world?
About ORGANO™
Founded in 2008 as Organo Gold, ORGANO™ is dedicated to bringing the benefits of the earth's nutritional riches to people throughout the world via its premium products that can be used daily to help to achieve a more energetic and healthier lifestyle.  
#WeAreOrgano