How are you doing with the X Challenge? Have you been working out daily and eating as healthy as you can?
We know Easter, like any other holiday, is a difficult time to keep our weight loss goals up to date. However, the Easter Bunny visited ORGANO™ and left us some delicious recipes you can prepare this weekend without having to quit chocolate for this family gathering.
Black Coffee & Cocoa ORGANO™ Bars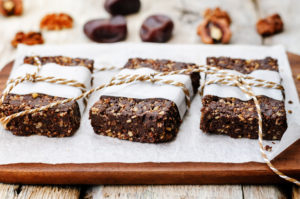 Yields: 16-20 servings
Calories per serving: 90
1 sachet ORGANO™ Black Coffee
2 sachets ORGANO™ Hot Cocoa
¾ cup raw pecans
½ cup raw almonds
1 ¼ cups dates
1 tsp vanilla extract
1 pinch sea salt
Process the pecans and almonds in a blender until no large pieces remain. Place in a bowl.

Process dates until no large pieces remain and add the nut mix along with the sachets of Black Coffee and Hot Cocoa, the vanilla extract, and the sea salt. Process until the mix starts to clump together.

Line up a loaf pan with wax paper or a plastic wrap. Pour in the mixture and press down firmly.

Refrigerate for 30 minutes and slice into small brownies.
FENIX™ Energy Bites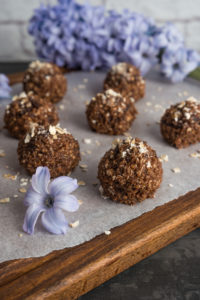 Yields: 15-17 servings
Calories per serving: 100
1 scoop FENIX™ Chocolate
1 cup instant oats
½ cup crunchy peanut butter
⅓ cup honey
1 Tbsp chia seeds
Add all the ingredients in a bowl and mix until they are all combined.

Refrigerate for 30 minutes, or until the mixture is firm enough to take small pieces and give them a round shape.
FENIX™ Chocolate Popsicles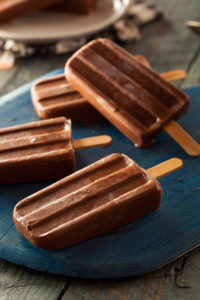 Yields: 4-6 servings
Calories per serving: 100
2 scoops FENIX™ Chocolate
16 oz. 2% milk
Mix the FENIX™ Chocolate with the 16 oz. of milk.

Pour the mix into popsicle molds and add sticks or handles.

Put on the freezer for 90 minutes or until frozen completely.
ORGANO™ Cocoa Rice Squares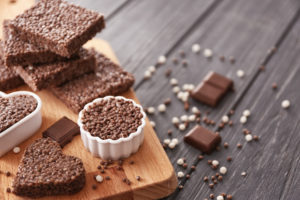 Yields: 4 servings
Calories per serving: 60
2 Tbsp butter
1 sachet ORGANO™ Hot Cocoa
⅔ cup marshmallows
3 cups crisped rice
Melt the butter in a saucepan over low heat.

Add marshmallows and stir until completely melted. Remove from heat and stir in the Hot Cocoa.

Add Rice Krispies and stir until well coated.

Press the mixture into a 13x9x2 inch pan coated with cooking spray,

Let the mix cool for at least an hour and cut into 2-inch squares.
ORGANO™ Chocolate-Peppermint Shake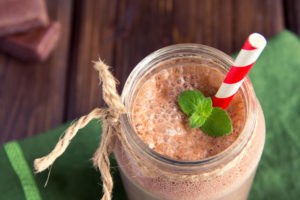 Yields: 1 serving
Calories per serving: 100
1 scoop FENIX™ Chocolate
8 oz. skim milk
½ tsp peppermint extract
5 ice cubes
Put all the ingredients in the blender for 30 seconds and enjoy.
There you go! Leave the Easter eggs for the kids this year and enjoy these delightful chocolate treats that will help you to keep up with the X Challenge for the rest of the year!
Let us know how which one was your favorite, and share with other members of the OG Family your own homemade chocolate treats to keep healthy this Easter!  
About ORGANO™
Founded in 2008 as Organo Gold, ORGANO™ is dedicated to bringing the benefits of the earth's nutritional riches to people throughout the world via its premium products that can be used daily to help to achieve a more energetic and healthier lifestyle.  
#WeAreOrgano