Now that you downloaded the X4ever app from Google Play or the App Store , you must be discovering the perks of a healthier way of life available right on your phone and tablet.
If you're beating the X Challenge with this new app, or if you want to start right now, here's some helpful information to make sure you're getting all the benefits of this new lifestyle.
Get the proper software
The X4ever app works efficiently with iOS version 10 and Android Oreo 8.0. The latest version of these two systems is always recommended.
Create an account
After installing the app in your device, select 'Create an account'  at the bottom part of the screen and follow the steps to create your profile. You'll have to provide some basic information such as your name and address, so we can send you your prize each time you achieve a new milestone. Input your current weight and your desired weight and upload a front and side image of your body. Please note that uploading pictures to the app might take a few seconds.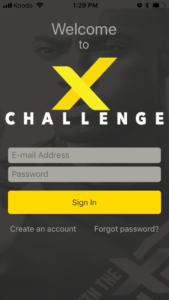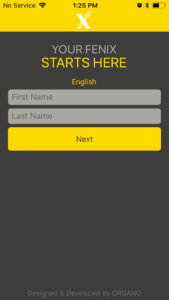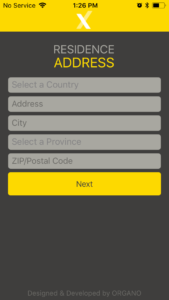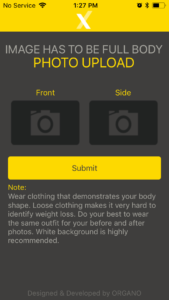 Sign in
Input the email address and password you chose when creating your account.
Note that the X4ever app is sensitive to numbers, special characters, and upper cases. Be sure to input this information correctly so you can log in to the app.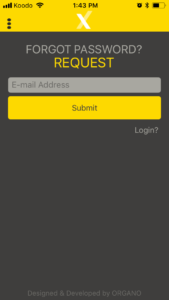 If you can't remember your password, select 'Forgot password?' on the bottom of your screen to get a recovery email.
If after following the steps to retrieve your password and still can't log in to your account, please contact support@x4ever.club.
Selecting your weight management goals
When creating your account, you'll have to enter your current weight and your desired weight. The system will automatically set a date to reach your objectives in a healthy way. The time frame that the App provides is based on a healthy weight loss of about 2 lbs a week, and cannot be set manually. Some people may lose weight faster (or slower) when they first start the program.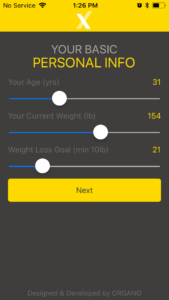 Tracking your progress with photos and testimonials
Follow your progress by sending new photos and testimonials. Each week, the X4ever app will automatically ask you to upload a new front and side picture of your body. You won't be able to send more than one of each photo a week, but you'll be able to update your progress after the one-week cycle is completed.
To access images from previous weeks, tap on 'MY PROFILE' section and select 'Gallery' under your progress graph.
Change your region and language
If you want to change the language of the app, tap on 'SETTINGS' and select 'User Settings'. It will give you the option to select a language between English, French and Spanish.
Please note that the X Challenge is only available in Canada and USA, and it will be available for other regions soon.
Sync your music with the X4ever app
You can listen to your music right from the X4ever app. Just tap on 'MUSIC' and select playlist. This feature is only available in Android, and will be available for iphone on the next release.
Buy OGX products
For the moment, you can buy OGX products at ShopOG.com
Start living the benefits of the X Challenge today! Download the X4ever app — it's easy and comfortable to use — and keep living the X4ever Lifestyle with ORGANO.
About ORGANO™
Founded in 2008 as Organo Gold, ORGANO™ is dedicated to bringing the benefits of the earth's nutritional riches to people throughout the world via its premium products that can be used daily to help to achieve a more energetic and healthier lifestyle.
#WeAreOrgano