It's official – It's June and we've said so long to Winter!  Summer is fast approaching and the Heat Is On! And, there is no better way to cool your body and refresh your soul than with a nice tall glass of ORGANO™ Black Iced Tea. Our beloved and ancient friend – Tea – not only has it has traveled the world conquering the thirst of virtually every country on the planet, but it has also become synonymous with Summer, leisure and easy living. Today the spotlight is on ORGANO™ Black Iced Tea. So, let's explore it further!
Naturally Cool and Super Hot – OG Black Ice:
ORGANO™ Black IcedTea is made with pure, natural honey, features the benefits of certified Ganoderma lucidum and Amazonian Guarana (a climbing plant in the maple family, native to the Amazon basin, which produces a fruit like seed approximately the same size as a coffee bean). The natural energy boost from the Guarana and honey, make it the perfect beverage all year long – but especially when trying to escape the summer heat!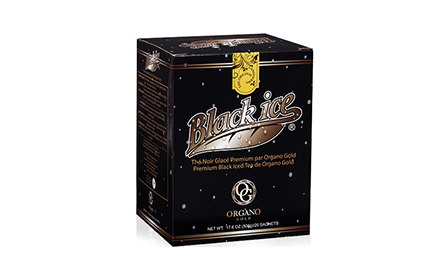 Black Ice Is Nice – But Let's Not Dilute The Facts:
It's no secret that ice and tea go hand in hand (or cup), but let's not dilute the facts, because we all know that using the standard issue ice cube made from water will eventually make your OG Black Ice a watery shadow of its former glory. Looking for a quick and simple way to enjoy the first and last sip of your favorite OG Brewing Cup or Sachet – be it coffee or tea? It's easy, simply fill your ice-cube tray with your designated OG Gourmet Blend, freeze, then use the cubes to chill out and cool your brew after it has a meltdown.
Berry Nicely Brewed – Black Iced Tea
:
OG Black Ice and blue, black or strawberries are the perfect mix of flavors to welcome in the fun and sun that only summer can provide!
To get started you will need to brew:
(2) sachets of OG Black Ice (chilled)

1/2 cup of diced blue and 

black or strawberries

and 1/4 cup of freshly squeezed lemon juice
Fill ice-cube tray mold 1/2 way full with your OG Black Ice. Gently place berries in each cube mold, and then drizzle the lemon juice in each cube over the berries. Fill the remaining space of the mold with your chilled OG Black Iced Tea. Place ice-cube tray into the freezer until completely frozen. Once frozen, serve up in a cup with OG Black Ice for a premium (and very cool) iced tea experience.
No doubt, tea time is a time honored tradition and ORGANO™ understands the importance of creating a daily ritual of calm and relaxation, and our Gourmet Tea Blends were designed to do just that. Each in their very own special way, and in many different flavors, what could be more welcome than that! Whether it's a short break and a quick cup at work, or a long tall glass while at play – serve it up the OG way with a nice cool blast of Black – ORGANO™ Black Iced Tea that is!  #TasteTheGold