There is no better way to say "I Love You" than with a rich and robust cup of coffee, and ORGANO™ is proud to announce one of its newest offerings – the ORGANO™ Preferred Customer LOVE U TWO Promotion!  If you're an ORGANO™ Preferred Customer, then you've come to the right place. Welcome to your one stop shop for all of the best deals and promos that are available exclusively for you – our loyal Preferred Customer!
Spread the ORGANO™ Love this season with the LOVE U TWO Promotion – when you share and enjoy two OG Signature products – Te Amô Decaf Gourmet Blend and OG's Premium Gourmet Organic King of Coffee! These two ORGANO™ treasures are dedicated to those who live, breathe and love coffee. Not only do both authentic gourmet coffee blends bring about a rich and robust taste – one is free of caffeine and the other is a modern ORGANO™ classic fit for a king.  And, together they make the perfect couple!
Te Amô Decaf Gourmet Blend – The Finest Decaf in a Single-Cup Serving
Not everyone drinks coffee for the caffeine. For some, it's the aroma – how it steams when poured, or how rich and smooth flavors penetrate every taste bud when sipped.  We know it's not just coffee – it's the first thing you think about when you wake up, and often before bed – but you can't have (or don't want) caffeine. ORGANO™ understands the genuine lifetime love affair for the greatest drink on earth – coffee, and the option to have it caffeine free has arrived!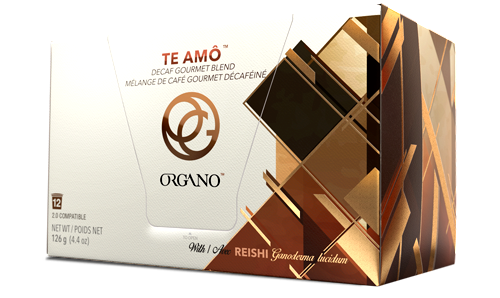 Premium Gourmet Organic King of Coffee – Enhanced with Ganoderma Lucidum
Enjoy the luxury of a premium organic coffee with the added bonus of pure organic Ganoderma Spores. Only the finest organic beans are selected for this bold, flavorful coffee that is the perfect way to enhance your day. The perfect fusion of organic coffee and our certified Ganoderma lucidum, makes it the perfect for the wellness-conscious coffee connoisseur. Think of it as a necessary luxury  and a joy to drink any time.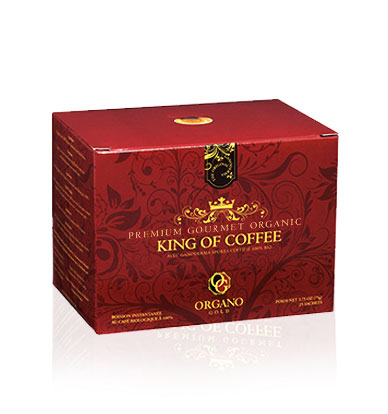 *ORGANO™ Preferred Customer LOVE U TWO™ Promotion: How Does It Work?
During the time frame February 12th – March 20th, 2016
Purchase ONE of the THREE LOVE U TWO™ Promo Packs:
Te Amo + Te Amo = LOVE
King of Coffee + King of Coffee = U
Te Amo + King of Coffee = TWO
And… RECEIVE 5% OFF EACH PACK!
Don't be shy – declare your love for coffee and put some LOVE in your cup today!  Enjoy a cup (or two) of either one (or both) of our Preferred Customer LOVE U TWO Promo treasures, from the company that brings the treasures of the earth to the people of the world – ORGANO™.  *Available in the United States and Canada. If you have any additional questions, please feel free to contact our dedicated Preferred Customer Hotline at 1-855-414-6266 or 1-855-414-6266 FREE.