Twinkling lights, snowball fights and festive parties with friends and loved ones – there are so many things to love about the holiday season. And while it is the season to be jolly, it is also the season for sharing and gift giving with those whom you love and treasure. Well, the holiday season just got brighter with ORGANO™, because sharing treasures is our business – it's what we do! So, "sip back" and take in a few festive and seasonal suggestions on how to share the gift of ORGANO™, in ways that will delight and warm the heart of everyone of your gift giving list.
Decadent – Delicious & Beautiful Unwrapped: Many of exclusive ORGANO™ box designs not only showcase their modern and "limitless" color approach, but they can take you on an exciting journey around the globe's most enjoyable flavors. The ORGANO™ brewing capsules are eco-friendly and divine in their design. These exclusive OG Gourmet and Tea Beverages you will not only want to give as gifts for your friends and family to treasure, but for them to showcase on the countertop like fine works of art. And the best part, yes, the boxes are so glorious that no wrapping is required, so you can give it or keep it and never put it away.
Colombian Roast This impressive, original blend is made from the finest Columbian coffee beans, and boasts a bold, rich and flavorful cup of 100% Colombian Roast. This eco-friendly brew takes its inspiration from the gorgeous lands  of Colombia – where the summers are endless!
Te Amo – Because we know it's not just coffee – it's a genuine lifetime love affair for the greatest drink on earth – even for those who can't have (or don't want) caffeine. No caffeine?
No problem with the finest decaf in a single serve (eco-friendly) brewing capsule… you'll fall in love over and over again, answering the question of inspiration – LOVE!
Tea for Two or Ten to Twenty at Party: Our beloved tea, the joys of which have spread across multiple cultures, over the span of centuries and enjoyed by nearly every person on the planet. And, ORGANO™ Gourmet Tea Beverages provide everything needed to create a daily ritual of calm and relaxation – what could be more welcomed gift than that? Once again, ORGANO™ takes the guess work out of the giving – with our latest gourmet tea blends! Great to give individually, wrapped or unwrapped, and even better when you bring enough to share with the crowd.
African Red – Characteristic notes in a powerful, but smooth tea, bursting with a savory blend of sweet and nutty flavors. Take your taste buds on a safari with a cup of ORGANO™ African Red. Enjoy this decaffeinated Red Rooibos Sweet Tea Blend from Africa in your home to relax and enjoy, inspired by the elegance, grandeur, and grace of the great African Lion.
Rodéo Chai – Is where East meets West; the elegance and mystique of India blended with the opulence and chic of Rodeo Drive – all in one cup with this authentic blend of robust gourmet chai spices. This sophisticated, and exotic, tea blend draws its inspiration from the beautiful people of India, and the majesty of the almighty peacock.
Shake It Up  & Season's Greetings for Health & Happiness: The holiday season is a time to celebrate and reflect on what's most important in life. At the top of the list for most of us, is our own health and happiness, and we wish the same for our family and friends. The very best good-for-you gift, that also feel decedent and indulgent, are the new ORGANO™ ogxFENIX™ Weight Management Shakes. Help someone you love begin their own personal weight loss journey, put together a sample basket to help inspire a transformation – and perhaps gain a preferred customer.  Add in raw almonds, dried cherries, a bottle of local honey or any other treat packed with nutritious perks to top off your basket and mix into a creamy vanilla or rich chocolate FENIX Meal Replacement Shake.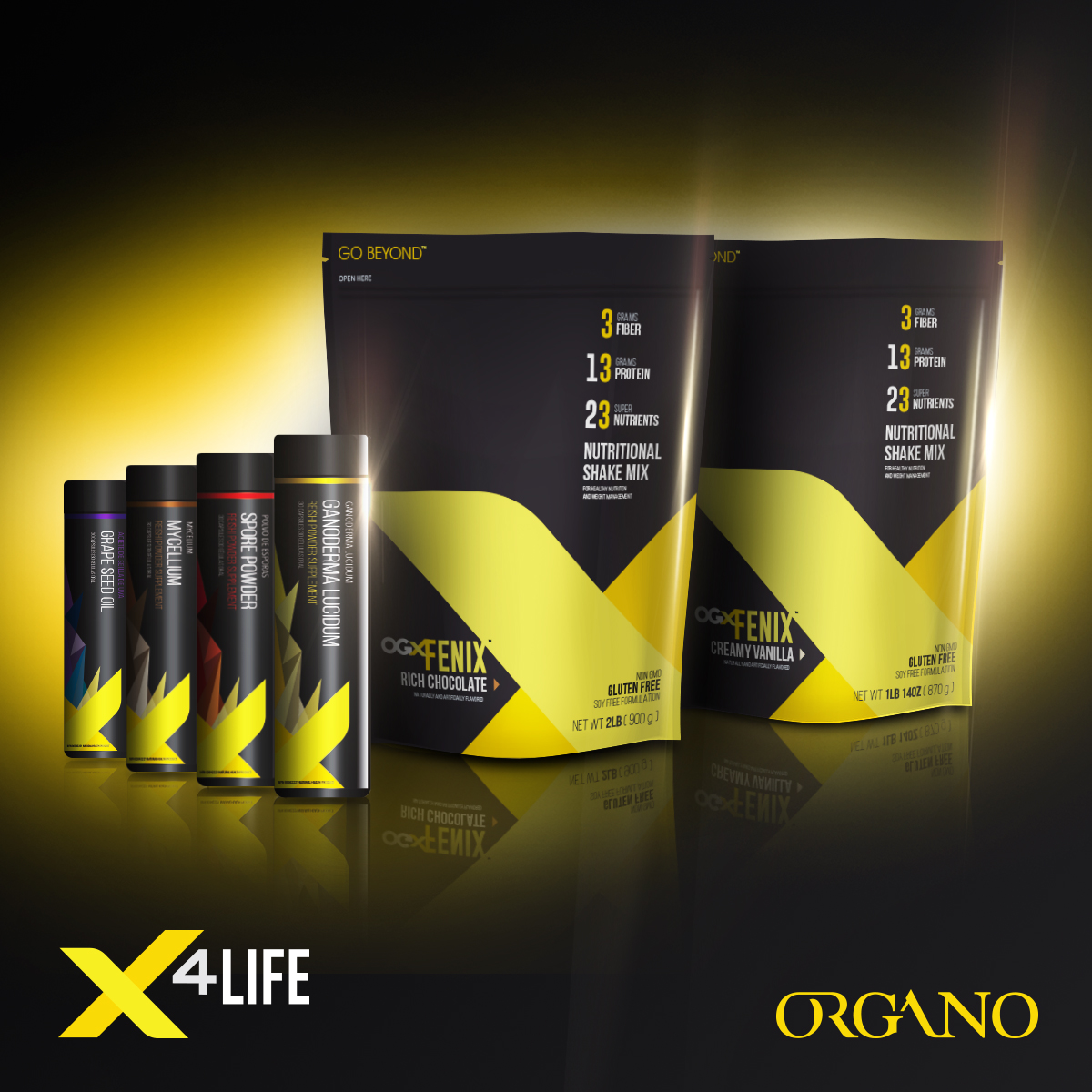 It is a true art to find the ideal gift – one that defines individuality and suits the recipient. There's a lot of thought and guesswork that goes into picking out just the right present, one that is personal – but not too personal. Perhaps your loved one, prefers tea over coffee, as coffee is not the only delicious drink that will help relax you through the holiday stress and warm you up in the winter cold. So, take it in – drink it up and share every flavor this holiday season. And for the coffee and tea lovers in your life, any one of these ORGANO™ gourmet coffee blends will certainly be well received! #WeAreOrgano