The OG Cares Foundation recognizes that there are youth who are living without the resources necessary to become skilled adults in their communities and beyond. Every single youth has the potential to become a leader, but in order to be successful long term, they need support and guidance from those who have experienced success. The mission of the OG Cares Foundation is to support youth by providing them with opportunities to become productive and engaged members of their communities, so that they may initiate positive change for future generations – on a global scale.
ORGANO™ & OG Cares Foundation; Dedicated to Children Across The Globe: A partnership between the OG Cares Foundation and ORGANO™ exists, as both organizations have a vested interest in creating international leaders. In fact, many of ORGANO™'s most successful distributors make it a priority to help others in their communities. The joint purpose of ORGANO™ and OG Cares is to provide the resources and tools children need in order to create positive, on a global level. OG Cares aims to impact thousands, if not millions, of youth around the world.
OG Cares Foundation Extends a Hand During ORGANO™  ONE ASIA Convention: In October, 2015, the  ORGANO™  leadership team; Founder and CEO Bernie Chua, Co-Founder and Global Master Distributor Shane Morand, and EVP of International Sales Holton Buggs (along with many other OG Family members and Distributors) descended upon Bangkok for the ORGANO™ ONE ASIA Convention in Thailand.  On a mission to make a difference, OG Cares partnered with the CCF Foundation, to reach out and lend a hand at a local orphanage in Thailand.
OG Cares Gives The Greatest Give of All – The Gift of Sustainability in Thailand: During their visit to the orphanage in Thailand, OG Cares and the ORGANO™ family planted a garden to help teach the children how to grow some of their own food – and making great strides in becoming sustainable. In addition, honored guests, had the pleasure of  serving these hungry children a hot (and complete) meal. By far, one of the most epic moments of the trip was when Holton Buggs, and OG Distributors and family members, literally emptied their wallets to donate to the CCF Foundation. The entire OG family was so moved by these children (and the charity itself), it certainly solidified their mission to help the children of the world!
OG Cares Foundation Extends a "Giving Hand" at Holiday Gift Giving Event in the Philippines: With the generous donations made by ORGANO™ leaders, management, OG Philippines staff and our global family – we were able to put a smile on the face of many Persons With Disability (PWDs), and other children in need.  The feeling of giving to, and especially spending time with, people we may not know, but that are in need – is our way of showing we care deeply, and that we are happy to share our many blessings. This is a very special time of year, and often children – in need – go without.  With that in mind OG Cares held "Gift Giving" events in the Philippines this month; in La Mesa Eco Park, Quezon City, 800 PWD's received gifts and in Barangay Kristong Hari (also in Quezon City), where gifts were bestowed upon 500 children in need.
A Picture Tells a Thousand Words; In Thailand, The Philippines and The Eyes of One Young Boy: The idea that a picture can convey what might take many words to express, may seem a bit unrealistic to some. However, in this case it is true – as you will see in the photos taken in Thailand and the Philippines. One of our ORGANO™ family members was able to capture the spirit of these children – in the eyes of this young boy.  You will surely notice the brilliance in his blue eyes right away, then you may notice that they are slightly diseased – but what many would consider a handicap – this young boy sees it as an advantage, literally, as he states "I can see like a cat at night!"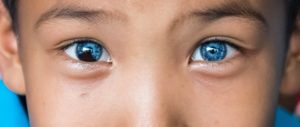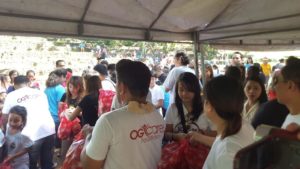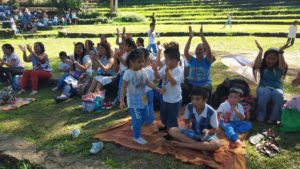 ORGANO™ and the OG Cares Foundation, believes there is no trust more sacred than the one the world holds with children.  As we ring in the new year, and celebrate with our own families, let us not forget to give of ourselves to those in need – especially the children of the world. By investing in the youth of today, we will develop international leaders and Distributors of tomorrow.  #TasteTheGold
Sources:
http://www.un.org/en/events/childrenday