The countdown is on – the excitement is brewing with ORGANO™ and it's about time to mind your own ORGANO™ business with the OG 48 Hour Business Tools Sale. Starting tomorrow – April 22nd through April 23rd you will have the opportunity to purchase the following featured OG Business Tools at up to 40% off!
Taste The Gold 40oz. Stainless Steel Flask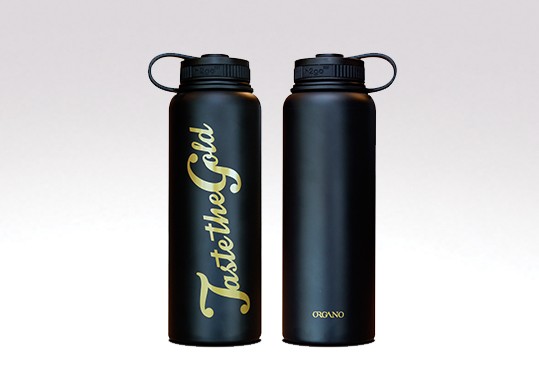 Taste the Gold on the go with this official ORGANO™ Water Flask! Go Getters know that when it comes time to travel, whether that means getting on an international flight, hiking at a high elevation, camping, or taking a road trip – you can't leave the house without your OG Gourmet Coffee and Tea Blends (and of course your daily dose of water). To get the OG flowing through your body (and to get the water your body needs), you will need to keep your ORGANO™ Taste The Gold Stainless Steel Flask within reach!
Large 40 Oz (1183ml) bottle with wide mouth opening
Insulated Lid and Body is able to keep hot beverages up to 6 hours and cold beverages up to 12 hours
Stamped with the new official ORGANO™ symbol and signature "Taste the Gold" phrase
Hand wash recommended.
Do not microwave
Not recommended for carbonated beverages
ORGANO™ Executive Metal Business Card Holder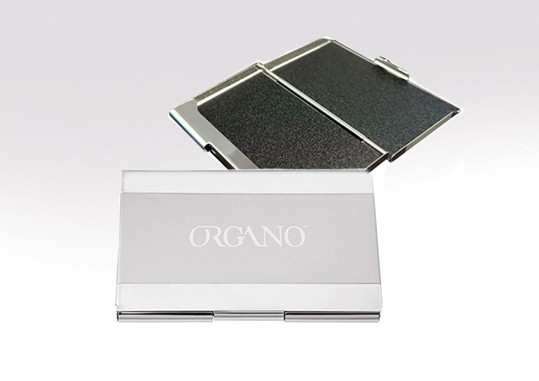 It may seem overly simplistic, but the ORGANO™ Executive Metal Business Card Holder is a very important part of your daily success.  First, it portrays you as an organized professional and second, it keeps you organized so you always know where "Your OG Business Card" is when you need to hand one out.  Not to mention, a folded, discolored or soiled business card can signal a warning to your prospective customers and fellow Distributors. Don't delay – conveniently keep all your business cards, credit cards and gift cards in one easy place with the ORGANO™ Executive Metal Business Card Holder.
Durable, portable, light and easy to carry
Brushed Stainless Steel material engraved with the ORGANO™ word mark
Holds 15 to 20 Business Cards
Remember, when you leave the house or hit the road – you will need your; wallet/purse, phone, keys, your Taste The Gold Stainless Steel Flask  and  ORGANO™ Executive Metal Business Card Holder to reap the benefits of your success, stay hydrated with OG and all while satisfying your wanderlust with brew in hand. So, for all the OG Go Getters on the move – looking for ways to make your business thrive – look no further than your OG Business Tools Page to successfully mind your own OG business.  Be sure to remember not to forget – the sale starts tomorrow (April 22-23, 2016) to take advantage of the 40% savings offered and Taste The Gold!
ORGANO™ Business Tools URL: http://businesstools.organogold.com/