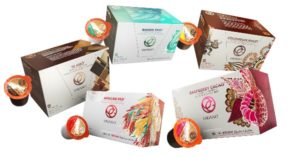 VANCOUVER, BRITISH COLUMBIA – August 29, 2015 – ORGANO™, the gourmet coffee company that caters to consumer's active lifestyles, today announced new eco-friendly brewing cups, along with new coffee flavors and new tea products.
"Last year ORGANO's entry into the brewed coffee category was an outstanding success," stated Bernardo Chua, Chief Executive Officer and Founder of ORGANO. "We spent this year perfecting the offering with recyclable brewing capsules and a product line expansion to meet the demands of Organo customers."
"Given our company mission to bring the treasures of the earth to the people of the world, it was very important for ORGANO to offer eco-friendly brewing capsules without compromising the quality of the product," added Shane Morand, Co-Founder and Global Master Distributor. "We accomplished our goal."
Single-serve coffee brewing systems currently comprise 25 percent of the brewed coffee market in early 2015, according to Statistica, and are expected to "nearly match" the consumption of bulk coffee by 2018, according to Mindel Research. Yet there has been a widespread outcry by the general public on the non-recyclability of the capsules.
"The product line expansion is significant," stated Holton Buggs, Executive Vice President of International Sales. We will continue to offer our popular coffees and are introducing teas. Both products with decaffeinated alternatives; the company's first offering of decaffeinated beverages.
The Brewing Cup is ORGANO's single cup brewing system that is designed for use in most popular single-serve coffee makers. The new brewing cup flavors are Columbian Roast, limited-edition Raspberry Cacao, Te Amő Decaf Blend, naturally decaffeinated African Red Rooibos sweet tea blend, and limited edition Rodeo Chai gourmet spiced tea. The products are now available in the U.S. and Canada through the ORGANO Independent Distributor network.
Founded in 2008, ORGANO remains focused on its mission to bring the treasures of the earth to the people of the world, with premium products that help them live a divine lifestyle. ORGANO defines that as balance, freedom and maximum happiness in all areas of life – family, financial, social, mental, and physical. We meet this mission through the principles of the Napoleon Hill Foundation, with which the Company has a long-standing and exclusive collaboration. ORGANO offers its suite of products through its Independent Distributor network and to consumers through its Coffee Connoisseur Club in the United States and Canada.
Learn more about ORGANO at: http://www.organogold.com.