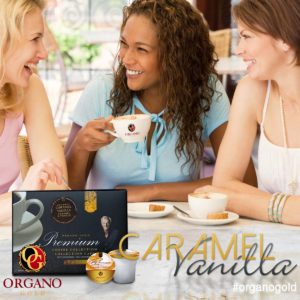 We shouldn't be surprised that the new Organo Gold Caramel Vanilla BrewKup has proved to be such a hit! So it is with great pleasure that we announce that this new flavor will now be available for individual purchase —both in the Organo Gold BackOffice and the Coffee Connoisseur Club.
With its delicious and seamless blend of creamy caramel and smooth vanilla, this new BrewKup was always destined to be a popular addition to the BrewKups product range. So Caramel Vanilla will now take its place alongside the four other flavors in the Organo Gold BrewKup product line: Black Gold, Toasted Hazelnut, Chocolate Almond and the seasonal limited-edition Royal Brewed BrewKups.
With its sweet, creamy flavor, the Caramel Vanilla BrewKup is ideal as an accompaniment to morning pastries, or it is equally perfect served just on its own.
Likely it is already your new favorite. Or if you haven't tried it yet, be sure to order your Caramel Vanilla BrewKups right away, so that you can start enjoying Organo Gold's newest premium coffee.