Twinkling lights, festive parties and warm get-togethers – there's a lot to love about the holiday season.  ORGANO™ understands – the kitchen is a sacred place for families all over the world – especially during the holiday season. True, the kitchen is the heart of the home and the gathering place for food, fellowship, laughter and holiday cheer – there is also an element of taste and design involved. The new ORGANO™ box designs, not only, showcase our modern and "limitless" color approach, will take you on an exciting journey around the globe's most enjoyable flavors, but truly make gift giving this season simple and easy!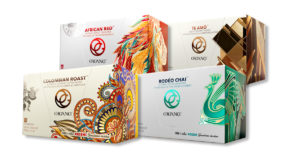 Holiday Gift Giving & Getting Can Be Tricky: There's a lot to love about the holidays — but gift giving isn't always on the list – giving and getting gifts can be tricky. There's a lot of thought and guesswork that goes into picking out just the right present, one that is personal – but not too personal. When it comes to gift giving, we want our gifts to come across as thoughtful, tasteful, and creative; but sometimes we just end up stumped and the "art" of gift giving becomes stressful.  Well, the gift giving season is now upon us, and if you think there is plenty of time left to finish up (or start) holiday shopping for those special people in your life, the reality is there really isn't that much time left at all.  But, have no fear… ORGANO™ is here and we've pretty much done your holiday shopping for you, and wrapped it up too!
Beautiful Unwrapped – Give it – Get it – Keep it & Never Put it Away:  ORGANO™ spent the past year perfecting our eco-friendly brewing capsules, without compromising the quality of the product, or sacrificing the divine box design! Let's take a closer look at the inspiration behind each new and exciting flavor, and the boxes so beautiful – you will not only want to give as gifts – but you will want to keep and  showcase them on the countertop – collect them all like fine works of art!  And the best part, yes the boxes are so glorious that no wrapping is required. Take it in – drink it up – taste every flavor – for the coffee lover, any one of these ORGANO™ gourmet coffee blends will certainly be well received!
Colombian Roast – This impressive, original blend is made from the finest Columbian coffee beans, and boasts a bold, rich and flavorful cup of 100% Colombian Roast. This eco-friendly brew takes its inspiration from the gorgeous and happy lands of Colombia, where summers are endless and the rainforests dance.
Te Amo – Because we know it's not just coffee – it's a genuine lifetime love affair for the greatest drink on earth – even for those who can't have (or don't want) caffeine. No caffeine? No problem with the finest decaf in a single serve (eco-friendly) brewing capsule… you'll fall in love over and over again, answering the question of inspiration – LOVE!
There is No Greater Gift Than Coffee – Except Perhaps Tea: It is a true art to find the ideal gift – one that defines individuality and suits recipient.  Perhaps your loved one prefers tea over coffee, as coffee is not the only delicious drink that will help relax you through the holiday stress and warm you against the winter cold. The history of tea is long and complex, spreading across multiple cultures over the span of centuries – it has traveled the world conquering the thirst of virtually every country on the planet and is delicious steamy hot or iced cold! Tea can provide everything needed to create a daily ritual of calm and relaxation. What could be more welcome than that? Once again, ORGANO™ takes the guess work out of the giving – with our latest gourmet tea blends!
African Red – Characteristic notes in a powerful, but smooth tea, bursting with a savory blend of sweet and nutty flavors. Take your taste buds on a safari with a cup of ORGANO™ African Red. This decaffeinated Red Rooibos Sweet Tea Blend from Africa is now available in your home to relax and enjoy, inspired by the elegance, grandeur, and grace of the great African Lion.
Rodéo Chai – Is where East meets West; the elegance and mystique of India blended with the opulence and chic of Rodeo Drive – all in one cup with this authentic blend of robust gourmet chai spices. This sophisticated, and exotic, tea blend draws its inspiration from the beautiful people of India, and the majesty of the almighty peacock.
Whether you're looking to purchase a gift for your good friend, husband, or mother, finding that special something for that special someone in your life may be quite a challenge. Show that you really care, by giving ORGANO™, the unique gift that is both delicious and far from ordinary. What happens when they aren't the easiest person to shop for because they seem to have it all?  This year remember; It's Easy. It's Simple. It's ORGANO™. Fill your gift giving cup with ORGANO™ this holiday season; rejoice in the blessings of the past and new year to come.  From the company that brings the treasures of the earth, to the people of the world – we are here to help you wrap it up and taste the gold. Happy Holidays! #TasteTheGold