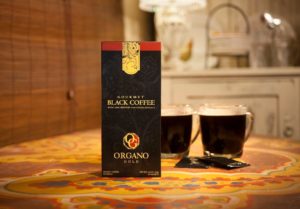 This week we are featuring one of our Flagship Products – Black Coffee.
When we take the time to reflect on the past, our thoughts tend to focus on events that stand out. It may be the day you got married, the birth of your children or a vacation to some exotic location. It is interesting that most of our fondest memories are of events that took us away from our daily routines. We enjoy the change and the freedom that comes from breaking away from routine and experiencing something that is new and exciting.
The other day a group of Organo Gold employees were gathered together discussing some of their life-changing moments and someone shared a story about the day he became a father for the first time. He talked about the entire experience of watching his child being born and the overwhelming emotions that he felt and then showed us some pictures of him holding his newborn daughter. He was standing beside a table with his daughter in his arms and a cup of coffee beside him on the table – his daughter was born around 5:00am he explains, so I needed my cup of coffee – we all laughed. This was a defining moment in his life and it is interesting that coffee played a part in this moment.
Conversation quickly turned to coffee, as it often does at OG head office, and soon everyone was telling stories about great moments in their lives and how coffee was a part of that experience. There were vacations to exotic places like Jamaica, Costa Rica and Europe and each vacation story included the coffee experience that had while they were there.
Coffee plays an important role in our everyday lives, it is part of our daily routine and we do not give a second thought as to whether should we have a coffee this morning, we just instinctively get up and make it. After our conversation that day, we realized that coffee is not just a habit – we brush our teeth every morning but there were no stories about the experience of someone brushing their teeth in Jamaica. Coffee is more than a habit or a routine, it is an experience that we enjoy everyday and that becomes part of the experiences that we treasure the most.
Now let's talk about our: Organo Gold Black Coffee With 100% Certified Organic Ganoderma Lucidum 
Ingredients: Coffee, 100% Organic Ganoderma Lucidum Powder
Nutrition Facts:
Seving Size / Portion: 1 sachet (0.12 oz / 3.5g)
Calories: 9
Total Fat: 0g
Saturated: 0g
+ Trans: 0g
Cholesterol: 0mg
Sodium: 5mg
Carbohydrates: 1.6g
Fibre: 0.5g
Sugars: 0g
Protein: 0.7g
Vitamin A: 0%
Vitamin C: 0%
Calcium: 0.3%
Iron: 0.6%
At Organo Gold, our mission is "bringing the treasures of the earth to the people of the world". The treasure is Ganoderma, the delivery system is coffee and the taste is incredible!
Why use coffee as our delivery system? Coffee is the second most consumed beverage on the planet after water. It is a part of our daily routine, just ask any coffee drinker if they ever forget to drink their morning coffee – after they finish laughing they will undoubtedly say no. By adding our 100% Organic Ganoderma to coffee, it insures that you will never forget to take your Ganoderma. That is the genius of Organo Gold.
Organo Gold only uses two ingredients: 100% Arabica coffee and 100% Organic Ganoderma Lucidum – we do not add any chemicals or preservatives.
Our coffee buyers travel the globe in search of the finest 100% Arabica hard beans, grown at high altitudes. When coffee beans are grown at higher altitudes, they mature slower and appear much denser and harder than those grown at lower elevations. This slow and meticulous maturation of the coffee bean produces a richer, fuller flavor that comes through in every cup of our coffee.
After our beans have been selected, they are roasted to perfection by a master roaster, ensuring a rich, full-bodied taste. Once roasted, they are finely ground and brewed, producing incredible gourmet coffee. Once brewed, the coffee undergoes a patented concentration process followed by a patented drying process to produce the coffee powder for our various products. Our 100% Organic Ganoderma is then blended with the coffee and the ingredients are packaged into sachets, producing the finest Ganoderma coffee on the planet. Organo Gold coffee is the Gold Standard in Ganoderma coffee.