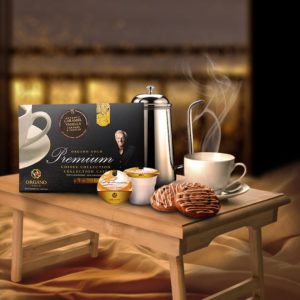 Everyone at Organo Gold is very excited about this month's launch of the new Caramel Vanilla BrewKup. Some flavors are just meant to be together — like chocolate and peanut butter, or apples and cinnamon. So we predict great things for this exclusive new BrewKup, which effortlessly blends the perfectly-paired flavors of rich caramel and smooth vanilla. (We're sure it's bound to be everyone's new favorite OG drink!)
We thought we'd take a closer look at one half of this perfect couple — that wonderful flavor that is the key to so many desserts — vanilla. Think about some of the world's most popular sweet treats: vanilla ice cream, vanilla cupcakes, vanilla latte — the list of items that have been enhanced by this humble bean pod goes on and on.
So let's get to know vanilla a little better, shall we?
•    As we've noted before, the spice known as pure vanilla is really the seeds from dried pods of an orchid vine whose flowers bloom and die within a single day.
•    According to a recent NPR blog, vanilla is far from the plain, basic flavor that many people seem to think it is. The article noted that vanilla is "one of the most complex spices around, boasting at least 250 different flavor and aroma compounds, only one of which is vanillin."
•    Much like coffee beans, vanilla can boast different flavors according to the different regions in which it is grown. Madagascan Bourbon vanilla is known as the "classic" deep, rich vanilla flavor, Tahitian vanilla is prized by many bakers for its strong notes of cherry, while Mexican vanilla is noted for its spicy, nutmeg-y flavor.
•    Madagascar is the world's biggest producer of vanilla, harvesting an estimated 1,000 to 1,500 tons each year. Second behind Madagascar for vanilla production are Tahiti and Mexico.
•    Vanilla is said to be one of the most labor-intensive crops in the world (it usually needs to be hand-pollinated), and is the second most expensive spice after saffron. But because it is so universally liked, vanilla has become a go-to flavor or aroma for everything from ice cream to perfume.
•    The vanilla vine originated in the wild jungles of ancient Mexico, growing upward and wrapping itself around stronger plants. Vanilla remains a prominent crop and a popular flavor in Mexico to this day.