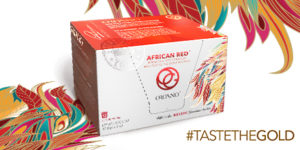 At ORGANO™'s 2015 International "Ignite" Convention (held in Los Angeles, California last month), the crowd roared "I want to try it all, I want to take it in, I want to taste every flavor" as the treasure chest of ORGANO™'s newest products were unveiled.
Meet African Red Rooibos Sweet Tea Blend!
African Red Rooibos Sweet Tea is ORGANO™'s introductory tea to the eco-friendly brewing cup product line. Rooibos teas are herbal infusions made from a South African red bush and sometimes called "Red Tea." ORGANO™'s authentic Rooibos Red Tea is the perfect complement for those who prefer a more casual, relaxing and caffeine free brew. With hints of dark cherry and toffee, this brew cup's enticing aroma and flavor truly make it one of a kind.
Our African Red Rooibos Sweet Tea takes inspiration from the mighty African Lion.  This cat truly knows how to take a step back, unwind from a day's hunt and simply drink in the most amazing goodness life could offer – a relaxing moment of peace after a busy day at work. Now, are we saying that the mighty African Lion Rooibos Tea?  Of course not, that would be a stretch, but if they did – we're fairly certain it would be ORGANO™.