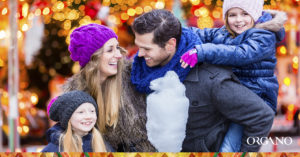 Merry Christmas and Happy Holidays! It's the big day – when friends and family get together to share good cheer, give thanks for their many blessings, reflect upon the memories of the past year and plan for the coming new year. Today is the day to share the goodness in your heart with others, and to express with love, words (and gifts), what your loved ones mean to you!
Beneath the Hustle and Bustle of the Holiday Season: The true beauty of the holiday season is connecting with others.  And, there is no better way to connect with loved ones than by sharing a cup of, or giving the gift of, ORGANO™ Gourmet Coffee (and Tea) Blends – especially huddled around the fireplace.  So this year, at OG we have whipped up our own version of a warm, comforting drink to enjoy with friends and family by the hearthside, or give as a gift in a jar!
OG Holiday Gingerbread Spice Mocha Mix: Combined with any ORGANO™ gourmet coffee blend – it's like Christmas in a mug. You can either layer the ingredients and have the recipient shake it all up when they are ready to use, or you can shake it all up for them and give it that way. Either way this is absolutely fantastic and makes a great gift!
Ingredients: ⅓ cup ORGANO™ Gourmet Coffee (not yet brewed), ½ cup powdered coffee creamer, ½ cup cocoa powder, ½ cup ORGANO™ Gourmet Hot Chocolate, ¼ teaspoon of cinnamon, ¼ teaspoon of ground ginger, ⅛ teaspoon of allspice, ⅛ teaspoon of nutmeg, and finally ⅛ teaspoon of ground cloves.
Instructions: In a small bowl, add the cinnamon, ground ginger, all spice, nutmeg and ground cloves. Mix together. Place in a jelly jar or mason jar, layer ingredients starting with the coffee creamer, then the cocoa powder, then the OG Coffee and Gourmet Hot Chocolate sugar and then end with the blended gingerbread spice mix.
Attach a tag around the jar with "Directions for Use": "Shake the jar to mix everything together well. For every one cup of your favorite ORGANO™ gourmet coffee blend, add 2 Tablespoons of the "OG Gingerbread Spice Mocha Mix" to your OG brew" and it will certainly put a little Ho Ho Ho in your cup!
ORGANO™ Celebrating as ONE – in 50 Countries: This year the ORGANO™ Global Family achieved a very important milestone; we are now operating in 50 countries – as ONE. As we expand our global footprint, on this very special day, at we would like extend a "Happy Holidays" wish – in the many native languages around the world:
Spanish: Felices Fiestas
French: Joyeuses Fêtes
Italian: Buone Feste!
German: Die Grüße der Jahreszeit
Greek: Καλές γιορτές
Czech: Hezké prázdniny
Kazakh: Болсын, ағайын
Dutch: Fijne Vakantie
Polish: Wesołych Świąt
Portuguese: Boas Festas
Russian: С праздником
Slovenian: Vesele praznike
Japanese: ハッピーホリデー!
Malay: Selamat Bercuti
Chinese: 節日快樂!
Thai: สุขสันต์วันหยุด
Filipino: Maligayang Pasko
Swahili: Furaha likizo
Christmas is a time for cherishing those who bring so many blessings to our lives. From the company that brings the treasures of the world, to the people of the world – the ORGANO™ Global Family – we wish you all of the joy and happiness the season has to offer, and the promise of success and prosperity throughout the new year! Be sure to stay tuned for more "ORGANO™ 2015 Milestones & Memories – Worldwide", where we are highlighting some of the most epic moments, across the globe, as we prepare to ring in the new year of 2016!
Sources:
http://www.wishesquotes.com/christmas/christmas-wishes#ixzz3v4w5Ei7N
http://dailydishrecipes.com/gifts-in-a-jar-gingerbread-spice-mocha-coffee/#ixzz3v5HamdsQ