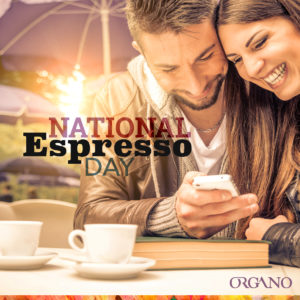 Ah… Espresso, that thick, bold Italian-style coffee drink, that got its name from the technology used to make its rich, dark brew, has become the source of inspiration for many legendary coffee drinks we enjoy today. And, while there is definitely an art to preparing the perfect espresso drink, the process doesn't have to be a foreign concept – because – It's Easy, It's Simple, It's Coffee with ORGANO™ and we are toasting the rise of this complex and concentrated caffeinated concoction in our own way on National Espresso Day – observed annually on November 23rd!
Coffee Pressed Out & Tailor Made Pronto:  The very word espresso itself, in Italian, means "quick in time" and long before the invention of the espresso machine, espresso was simply a cup of coffee expressly made for one person. Contrary to popular belief, espresso is neither a bean nor a blend, but rather a method of preparing coffee.  Much of this infamous drink's magic is that the beans are freshly ground before brewing, and freshly brewed before serving – making it "pressed out" and "tailor made pronto" for one lucky person at a time. Espresso is generally thicker than coffee brewed by other methods, and is almost always topped with a dollop of crema (a foam with a creamy consistency) on top. Espresso is perceived as having more caffeine than most coffee drinks, but because the usual serving size (a small demitasse-style cup), is much smaller, the total caffeine content is actually less.
Espresso's Debut & Italy's Luigi Bezzera: Espresso made its debut in Italy in the early 20th century, although coffee was already very much a part of Italian life for centuries. Espresso lovers owe their thanks for the tasty brew to Italy's Luigi Bezzera, the owner of a manufacturing plant who wanted to speed up the time it took to make coffee. It's unclear whether he was motivated to hasten the process by frustration over how long his morning coffee took or whether he wanted to speed up the time his employees took for their coffee breaks. Bezzera engineered a machine that added steam pressure to the brewing process, which created a stronger, more robust cup of coffee. This new quick-brew machine was named the Fast Coffee Machine, and the beverage it produced eventually become known as espresso.
From The "Grounds Up" to an International Phenomenon:  Espresso has come a long way since its invention in Italy (sometime in the 1900's), and unfortunately for Luigi Bezzera (who wasn't as talented at marketing his machine as we was at engineering it), as a few years later in 1905, Desidero Pavoni purchased the rights to the machine from Bezzera and had it patented. It is due to Pavoni's marketing genius that espresso grew in popularity – worldwide.  In its pure form, espresso has always been more popular in Europe than America, particularly in Italy. However, times-are-changing and espresso has become the inspiration for many popular coffee beverages such as; caffè latte, cafe mocha, and the caffè American now served up piping hot across the globe.
Laying the Foundation for Many Specialty Drinks To Come: Espresso serves as the foundation for a wide variety of the specialty coffee drinks we have come to enjoy today. The most well-known (and popular) "espresso type" drinks include the caffe latte and the caffe mocha (among others), and everyone seems to have their own personal favorite, which they like prepared in their own special way (e.g., half-caf, non-fat, extra whip or no whip at all). Sit back with your favorite Italian dessert (perhaps biscotti, brioche or a croissant), and enjoy these extra special "espresso inspired"  ORGANO™ gourmet coffee blend brew ideas – especially created for coffee drinkers (and thinkers) celebrating today.
OG's Café Mocha; Where Coffee & Chocolate Collide: Named after the distinctive coffee bean from which it derived its name, Mocha is actually a type of coffee bean, originating in Mocha – Yemen. OG's Gourmet Mocha combines a sweet rich coffee taste (and 100% Organic Ganoderma Lucidum) for the perfect energizing coffee drink. Our aromatic coffee, combined with the finest cocoa, brings about our guilt-free "dessert in a cup". Some complete their cafe mocha by drizzling generously with chocolate syrup – it's no wonder why mocha, as a term, symbolizes chocolate coffee!  Mix (2) cups of ORGANO™'s Café Mocha, add 1/2 cup steamed milk, drizzle with chocolate syrup or sprinkle with coco powder – enjoy for two.
 OG's "Love A Latte" and Got Milk?: The term latte, as used in English, is a shortened form of the Italian caffé latte (which means "milk coffee"), café con leche or café au lait, if your coffee spirit is channeling Spanish or French. ORGANO™'s Gourmet Café Latte will stimulate your imagination, and perk you up for the long grind ahead. Made from high quality, aromic arabica coffee beans, enriched with ganoderma lucidum extract, makes for gourmet latte nutrition in a cup. Mix (2) cups of ORGANO™'s Gourmet Café Latte with 6 to 8 ounces of steamed milk, top with a light cream foam layer, sprinkle with coco powder and love-a-latte!
"Like-A-Mocha-Latte" with OG's Raspberry Cacaó Chocolate Gourmet Coffee Blend: Whip up this decadent brew by mixing (2) cups of ORGANO™'s brand new Raspberry Cacaó Chocolate Gourmet Coffee Blend with one tablespoon of ORGANO™ Gourmet Hot Chocolate, and mix with two tablespoons of half-and-half.  Indulge into the flavor of rich chocolate gently kissed with succulent red raspberries, and put a little Italian sidewalk cafe in your cup.
All around the world, people are waking up to the incredible taste and benefits of ORGANO™ premium gourmet beverages. And, on this very special holiday – coffee drinkers far and wide – shall be encouraged, to savor, enjoy and share with family and friends any one of the ORGANO™ gourmet coffee blends. With our classic sachets, or single serve eco-friendly brew cups, you can enjoy your favorite drink morning noon and night. #TasteTheGold