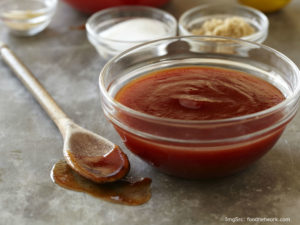 The holidays may be over, and the new year already in full swing. But we're still flipping through the OG Family Holiday Cookbook 2014, which is full of recipes that are great for you and the entire family year-round.
One of our favorites is the Black Noir Coffee Barbecue Steak Sauce recipe that was submitted by Michael Zemla of Rochester, New York. Of course, we think it's the BEST. BBQ SAUCE. EVER. That may have something to do with the fact that it contains our favorite ingredient — coffee. Michael's recipe uses a cup of OG coffee to help flavor this sauce — which is perfect as a condiment for all your favorite roasted meats.
We're going to be sure to always have a batch of this on hand for the next time we roast some chicken in the oven or throw some ribs on the BBQ. Here's how it's done:
Black Noir Coffee Barbecue Steak Sauce
INGREDIENTS:
1 cup brewed Organo Gold Black / Noir Coffee
1 cup ketchup
3⁄4 cup packed brown sugar
1⁄2 cup apple cider vinegar
1⁄2 cup onion diced
2 garlic cloves, finely chopped
2 Tbsp soy sauce or Worcestershire sauce
1-2 Tbsp chili powder (depending on taste)
DIRECTIONS:
1. In a medium saucepan stir all the ingredients until well combined. Cook in medium heat until boiling.
2. Reduce heat to low and allow simmering for about 40 minutes until all ingredients and flavors have been incorporated and sauce thickens, stirring occasionally.
3. Remove from heat and let cool before serving as a side dip for all kinds of meat.
Tip: You can coat steaks with a generous amount of this delicious OG Coffee Barbecue sauce, then simply cook the meat to your liking in the oven or on the BBQ.
Want to try more delicious recipes using OG products – then download our OG Cook book here:  http://recipes.organogold.com