Organo Gold is again this year a proud supporter of the Canadian Cancer Society's Miss Chinese Pageant Gala Dinner. When we were first invited to sponsor this event, we felt honored to be able to give back to our community here in Canada.
After attending last year's event, we also realized how important and relevant it was for us to support this worthy cause. That's partly because one of the main objectives of OG Cares is to focus on the well-being and education of youth; the cornerstone of the entire community's future. Contemporary society and the media machine place a lot of emphasis on superficial beauty — which has led many members of the younger generation to believe that to be beautiful, you have to be a specific size, shape or style. But our job as a part of this community is to show young people that real beauty, inside and out, is best attained by a healthy attitude and a healthy lifestyle.
And of course, OG products can be part of that lifestyle. Our Founder and CEO Bernardo Chua started Organo Gold with a vision "to bring the treasures of the Earth to the people of the word" — and the unique way he chose to do that was via coffee and tea. By infusing popular beverages such as coffee and tea with the Ganoderma Lucidum mushroom, OG has been able to share the power of what has for centuries been dubbed "The King of Herbs" to millions of coffee, tea and hot chocolate drinkers around the world.
With the combination of Ganoderma Lucidum and our network of Independent Distributors, Organo Gold has been able to transform a simple cup of coffee into a lifestyle that has positively impacted millions of people. So, we feel that OG supports inner and outer beauty, as well as the maintenance of a healthy lifestyle.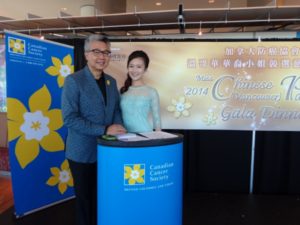 And of course, there have been many stories in the mainstream lifestyle media recently about how beneficial caffeine can be for outer beauty, including its help in enhancing hair color, hair strength and growth, and in helping skin care creams tighen and smooth the skin. We hope these caffienated beauty tips are something the contestants in this year's Miss Chinese Pageant embrace, pictures as they are of both inner and outer beauty.
We look forward to attending the event again in 2014, and helping to spread the word about this great cause, through both our OG Cares program and our large network of Independent Distributors in 37 countries across the globe.