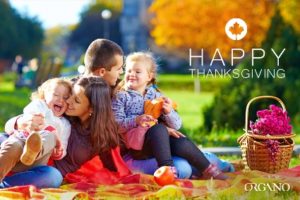 Thanksgiving Day is a National Public Holiday in Canada, and as a public display of affection from ORGANO™, we salute and give thanks to our beloved Canada on this 12th day of October.  No school or mail to be expected on this day of thanksgiving, as well as most stores, businesses and organizations will be closed.  Public transport services may also come to a screeching halt or reduced timetable – but one thing you can be sure of, regardless of your mode of celebration or transportation, coffee will be served up hot and cold throughout the long weekend.  Let's explore the holiday's origin, on goings, and signature celebratory gourmet coffee beverages with ORGANO™ today.
What Do Canadians Do on Thanksgiving Day?
No Work and All Play: Most accurately describes this Canadian National Holiday. Many people have a day off work on the second Monday of October. They often use the three-day Thanksgiving weekend to visit family or friends who live far away, or to receive them in their own homes. Many people also prepare a special meal to eat at some point during the long weekend. The traditional meal would always include a roast turkey and seasonal produce (like pumpkin, corn ears and roasted pecan nuts). Now, the meal may consist of other foods, particularly if the family is of non-European descent.
Autumn Days and Last Chance Vacation Stays: The Thanksgiving weekend is also a popular time to take a short autumn vacation. This may be the last chance in a while for some people to use cottages or holiday homes before winter sets in. Fans of the teams in the Canadian Football League may spend part of the weekend watching the Thanksgiving Day Classic matches. Other popular activities include: outdoor breaks to admire the spectacular colors of the Canadian autumn; hiking and fishing – or simply enjoying a piping hot cup of one of the newest ORGANO™ gourmet coffee (or tea) blends:
-Te Amô – The Finest Decaf in Single-Cup Servings
-Colombian Roast – Authentic Gourmet Coffee Blend
-Raspberry Cacaó –Chocolate Gourmet Coffee Blend
-Rodéo Chai – Gourmet Spiced Tea Blend
Why Do Canadians Do What They Do on Thanksgiving Day?
To Give Thanks For Harvest Bounty and Fortune: The native people (of the Americas) held ceremonies and festivals to celebrate the completion, and bounty, of the harvest long before European explorers and settlers arrived in what is now Canada. Early European thanksgivings were held to give thanks for some special fortune. An early example is the ceremony the explorer Martin Frobisher held in 1578, after he had survived the long journey in his quest to find a northern passage from Europe to Asia.
Noteworthy Events and Diamond Jubilees: Many thanksgivings were held following noteworthy events during the 18th century. Refugees fleeing the civil war in the United States brought the custom of an annual thanksgiving festival to Canada.  From 1879, Thanksgiving Day was held every year but the date varied and there was a special theme each year. The theme was the "Blessings of an Abundant Harvest" for many years. However, Queen Victoria's Golden and Diamond Jubilees and King Edward VII's Coronation formed the theme in later years.
The First World War and Armistice Day: The first Thanksgiving holiday was held in Canada in 1872 to celebrate the recovery of the Prince of Wales from a serious illness. After 1879 celebrations were held every year, but not always in October (it used to be observed around Armistice Day in November).  From the end of the First World War until 1930, both Armistice Day and Thanksgiving Day were celebrated on the Monday closest to November 11th, the anniversary of the official end of hostilities in World War I. In 1931, Armistice Day was renamed "Remembrance Day" and Thanksgiving Day was moved to a Monday in October.
Proclamations and Blessings: Since 1957, Canadian Thanksgiving Day has always been held on the second Monday in October, historically speaking.  On January 31, 1957, a proclamation was issued stating that Thanksgiving Day in Canada was to be:
"A Day of General Thanksgiving to Almighty God
for the Bountiful Harvest with which Canada has Been Blessed." 
ORGANO™ Salutes The Horn of Plenty: Thanksgiving Day in Canada is linked to the European tradition of harvest festivals.  A common image seen at this time of year is a cornucopia, or horn, filled with seasonal fruit and vegetables, and enjoyed most often with coffee or tea. The cornucopia, which means "Horn of Plenty" in Latin, was a symbol of bounty and plenty in ancient Greece. Turkeys, pumpkins, ears of corn and large displays of food are also used to symbolize Thanksgiving Day.  ORGANO™ invites you to  try this signature holiday gourmet coffee drink:.
The ORGANO™ Less is S'More (For Two or More) Signature Evening Brew
Prepare:
(1 Cup) ORGANO™ Te Amô – The Finest Decaf Single Serve Brew Cup
(1 Cup)  ORGANO™ Gourmet Hot Chocolate Sachet
(2) Tablespoons Almond Milk or Fat Free Hazelnut Creamer
Blend ingredients together, sweeten to taste, and sprinkle with marshmallows for S'More fun!  If serving a crowd – adjust the recipe accordingly.  If this version is too hot to handle for you – throw it all in the blender, add ice and whip up a smooth cool brew to delight your guests.
Prefer to keep it simple and stick with the classics? You can never go wrong with a cup full of the ORGANO™ "Black is Back" Gourmet Black Coffee, or the royally brewed ORGANO™ Premium Gourmet King of Coffee.
Regardless of your celebration method, and regardless of with whom (how or  why you celebrate), the one thing you can be sure of is – coffee and tea will be served up and enjoyed morning, noon and night (steaming hot and ice cold). Take it In, Drink it Up, Taste Every Flavor, and most importantly, join ORGANO™ on this very day of giving thanks!