At the ORGANO™ International "Ignite" Convention held in Los Angeles last month, a new treasure fired up crowd.  As the convention center started to roar with "I want to taste every flavor", ORGANO™ Rodéo Chai Gourmet Spiced Tea Blend was unveiled.
This "East meets West" classic was inspired by the beautiful people of India, and one of their most tantalizing and delicious gifts to the world. Rodéo Chai Gourmet Spiced Tea Blend is an authentic and robust gourmet blend, made with India's finest chai spices. With the elegance and mystique of India, the majesty of the peacock, and the opulence and chic of Rodeo Drive, this sophisticated and exotic tea blend is the perfect brew for your active and exciting daily life.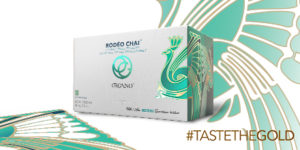 But to call an authentic blend of robust gourmet chai spices simply a "tea drink" is like saying Gucci and Prada purses are merely plastic storage bags. So just like Rodeo Drive is THE place to shop, our version of India's finest chai being anything less than shopping on Rodeo would be horrifying and unacceptable.
As many ask about the taste, the most accurate and scientific answer concluded is being equal to the same feeling during a shopping spree on a credit card you don't have to pay for. It's also said that every sip of ORGANO™ Rodéo Chai is like buying a new pair of shoes each time. But that's just a rumor.