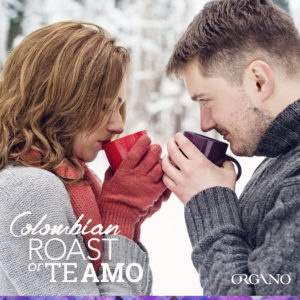 There is no better way to say "I Love You" than with a rich and robust cup of coffee.  ORGANO™ is proud to announce two of its newest offerings. These new ORGANO™ treasures are dedicated to those who live, breathe and love coffee. Not only do both new authentic gourmet coffee blends bring about a new taste – one is free of caffeine. It's the new Te Amô Decaf Gourmet Blend.
Te Amô Decaf Gourmet Blend – The Finest Decaf in a Single-Cup Serving
Not everyone drinks coffee for the caffeine.  For some, it's the aroma – how it steams when poured, or how rich and smooth flavors penetrate every taste bud when sipped.  We know it's not just coffee – it's the first thing you think about when you wake up, and often before bed – but you can't have (or don't want) caffeine. ORGANO™ understands the genuine lifetime love affair for the greatest drink on earth – coffee, and the option to have it caffeine free has arrived! 
Now, when the Universe desired a real cup of coffee, some might say, it made Colombian. Thus, ORGANO™ delivered  another new treasure to the world this year – Colombian Roast Gourmet Blend.
Colombian Roast Authentic Gourmet Coffee Blend – A Treasure to Behold
Colombia is considered the happiest country in the world, Maybe because there is no winter near the equator, maybe it's because Colombia has an endless summer. Or, maybe it's because Colombian coffee is known to be among the best in the world, with a rich, full-bodied, and perfectly balanced taste.  While  the endless Colombian summer may not be fair, the good news is – the new ORGANO™ Colombian Roast will bring a cup of Colombian sunshine and happiness to your home. With an impressive and original blend, made from the finest Colombian coffee beans, our rich and robust Colombian Roast will make waking up the best part of your day.
All over the world, people from every corner daydream about a rich bold delicious cup of coffee.  And what makes these two new brews so special is – what they have in common – and what sets them apart:
The Colombian Roast is invigorating, while Te Amô Decaf Gourmet Blend is a caffeine free alternative, without giving up the flavor.
Te Amô Decaf Blend is ideal at anytime of the day – even before bedtime.  It's delicious flavor will leave you speechless – but not sleepless.  On the other hand, the Colombian Roast is perfect in the morning when you need an extra boost!
While Te Amô Decaf is made with the finest quality Brazilian beans, the Colombian Roast is made with the highest quality beans – harvested in the rich green lands of Colombia – the happiest place on earth.
What these two treasures share in common is they are both enhanced with Organic Ganoderma Lucidum, they are both robust and smooth in flavor, and they can both be served up in recyclable capsules… a sustainable and eco friendly single-serve solution.
So put some love in your cup today – enjoy a cup (or two) of either one (or both) of our new treasures, from the company that brings the treasures of the earth to the people of the world – ORGANO™.