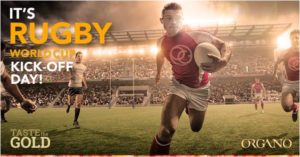 The excitement has reached fever pitch and, at long last, the 2015 Rugby World Cup is scheduled to kick off today!  While the allure of this fast-paced, hard- hitting game is easy to understand, the game of rugby itself is a bit harder to comprehend!  Let's get the ball rolling with ORGANO™ today, not just to celebrate, but to explore some of the intricacies of the second fastest growing sport in the world – rugby!
He Took The Ball and Ran With It:  Is exactly how it all began, allegedly.  A student at the Rugby School in England, William Webb Ellis, was playing soccer in 1823 when he picked up the ball and ran down the field to score. From that point on – the game of rugby was born. Today rugby is played in over 100 countries all because Mr. Ellis picked up the ball, and ran with it.  Thus, the William Webb Ellis Cup Award was founded, and is given to the winners of the World Cup. 
Rugby 101: Rugby is a "football style"  game that features a combination of strength, speed and strategy to move a ball into an opponent's territory. While rugby is a full-contact sport, players wear little-or no protective gear.  Traditional rugby with 15 players on each side, consists of 30 minute halves, no timeouts and only a 5 minute half time. Rugby is played on a field not exceeding 100 meters in length (excluding two try zones) and 70 meters wide – where all players play both defense and offense at any given time during a game.
Hosts and Co-Hosts – Past, Present and Future: The tournament was first held in 1987, when the tournament was co-hosted by New Zealand and Australia. The most recent tournament was held in 2011 in New Zealand, whose national team won the tournament by defeating France in the final.  Fast forward to 2015, the eighth (quadrennial) Rugby Union World Championship will be hosted by England from September 18th – October 31st, 2015.  England was chosen to host the competition in July 2009, beating rival bids from Italy, Japan and South Africa.  While England will host the 2015 World Cup, Japan will host the event in 2019.
Ruck, Maul & Scrum – Say What?  Once a player is tackled to the ground, a "ruck" is formed when one or more players from each team close around the ball. The ball then emerges and play continues. Now, when the ball carrier is held up by a member of the opposition, and by a member on his/her own team, it is called a "maul". The ball can either be removed from the "maul" or taken to the ground, which then forms a "ruck"… go figure!  A "scrum" is used to restart play after a minor infringement occurs (i.e. a forward pass), not to be confused with a "lineout" when the ball goes out of bounds.
Above all, rugby is a social sport that praises competition, but demands good sportsmanship. Nothing says good cheer and camaraderie like the World Cup, and the world's best coffee if your cup … drink it up with ORGANO™.