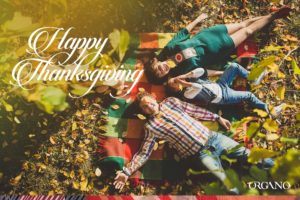 This day of "Thanksgiving" is centered around giving thanks for our blessings and loved ones, as well as cooking and sharing a bountiful meal with family and friends. Regardless of your celebration (or turkey preparation) method, and regardless of with whom (or how) you give thanks, the one thing you can count on is that coffee (and tea) will be served up morning, noon and night (steaming hot and ice cold).  Join the ORGANO™ global family in giving thanks for the blessings of the past year and exploring this glorious national holiday – to celebrate and Taste The Gold!
Pilgrims & Presidential Proclamations:  In 1621, the Plymouth colonists and Wampanoag Indians shared an "autumn harvest feast" that is acknowledged today as one of the first Thanksgiving celebrations in the colonies. As an annual celebration of the harvest and its bounty, moreover, Thanksgiving falls under a category of festivals that spans cultures, continents and millennia. In ancient times, the Egyptians, Greeks and Romans feasted and paid tribute to their gods after the fall harvest. Thanksgiving also bears a resemblance to the ancient Jewish harvest festival of Sukkot. And finally, historians note that Native Americans had a rich tradition of commemorating the fall harvest with feasting and merrymaking long before Europeans set foot on their shores. As President of the United States, George Washington proclaimed the first nationwide thanksgiving celebration in America on November 26, 1789, as a day of public thanksgiving and prayer to be observed by acknowledging with a grateful heart one's many blessings and favors.
The Mother of Thanksgiving & Mary Had a Little Lamb: In 1827, noted magazine editor and prolific writer Sarah Josepha Hale (author of the nursery rhyme "Mary Had a Little Lamb") launched a campaign to establish Thanksgiving as a national holiday. For 36 years, she published numerous editorials, sent scores of letters, and lobbied governors, senators, and presidents to pass legislation creating a fixed, national day of thanks on the last Thursday of November. Sarah believed this to be a unifying measure that could help ease growing tensions and divisions between different parts of the country. Whether President Abraham Lincoln had already predisposed to issue a proclamation before receiving one of Hale's letters remains unclear, but what is certain is that within a week of receiving it, Lincoln drafted an official proclamation – fixing the national observation of Thanksgiving on the final Thursday in November, of every year.
A Thanksgiving Day Feast; Turkey On The Table & ORGANO™ In Your Cup: Turkey, today's Thanksgiving staple, has become all but synonymous with the holiday. And you can be certain, the Pilgrims did not have ovens (or much of a sugar supply), the meal did not feature pies, cakes or the baked hallmark classics of contemporary celebrations. Appearing on the menu when the Pilgrims hosted their inaugural feast in 1621, was lobster, seal and swan – allegedly. Now today, whether roasted, baked or deep-fried – the Thanksgiving Day Turkey is the star of the show, along with other traditional foods including; stuffing, mashed potatoes, cranberry sauce and pumpkin pie. The beloved beverage(s) that steal the show before, during and after – are our beloved coffee and tea.  In the spirit of bringing treasures of the earth, to people of the world – ORGANO™ invites you to share our newest treasures with your family and friends:
Colombian Roast Gourmet Coffee Blend – This impressive, original blend is made from the finest Columbian coffee beans, and boasts a bold, rich and flavorful cup of 100% Colombian Roast. This eco-friendly brew takes its inspiration from the gorgeous and happy lands of Colombia, where summers are endless and the rainforests dance.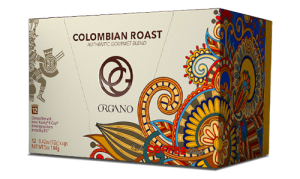 Raspberry Cacaò Coffee Blend – With all the sweetness of royal red raspberries and chocolate, this is one rich and  irresistible gourmet coffee blend. This will be one limited edition flavor that people will never want to end, or will be able to stop drinking!  Inspired by the mischievous and cunning fox, and their reputed ability to evade hunters, and their inability to stop eating berries.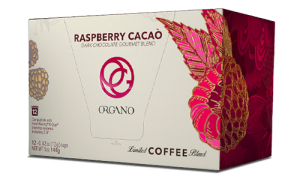 Te Amo De-Caf – Because we know it's not just coffee – it's a genuine lifetime love affair for the greatest drink on earth – even for those who can't have (or don't want) caffeine. No caffeine? No problem with the finest decaf in a single serve (eco-friendly) brewing capsule… you'll fall in love over and over again, answering the question of inspiration – LOVE!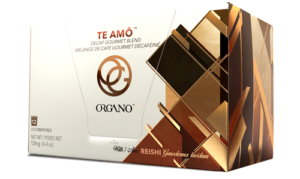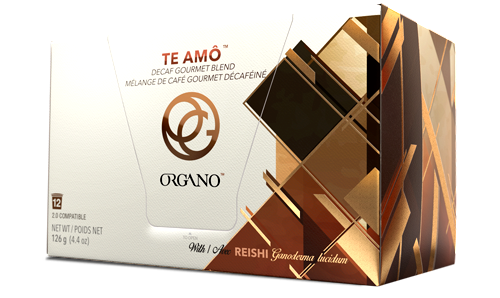 African Red Tea – Characteristic notes in a powerful, but smooth tea, bursting with a savory blend of sweet and nutty flavors. This decaffeinated Red Rooibos Sweet Tea Blend from Africa is now available in your home to relax and enjoy – inspired by the elegance, grandeur, and grace of the great African Lion.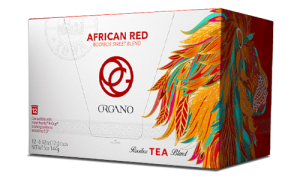 Rodéo Chai Tea – Is where East meets West; the elegance and mystique of India blended with the opulence and chic of Rodeo Drive – all in one cup with this authentic blend of robust gourmet chai spices. This sophisticated, and exotic, tea blend draws its inspiration from the beautiful people of India, and the majesty of the almighty peacock.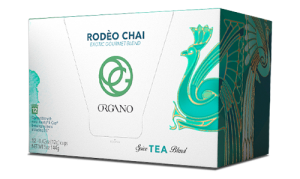 Prefer to keep it simple and stick with the classics? You can never go wrong with a cup full of the ORGANO™ Gourmet Black Coffee, or the royally brewed ORGANO™ Premium Gourmet King of Coffee.
Every year, on the fourth Thursday in November, we gather for a day of feasting, family, football – with lots of coffee (and tea) to stimulate the crowd. While today's Thanksgiving celebrations would likely be unrecognizable to attendees of the original 1621 harvest meal, it continues to be a day for people to come together around the table – albeit with some updates to pilgrim's menu. Take it In, Drink it Up, Taste Every Flavor, and most importantly, join ORGANO™ on this very day of Thanksgiving and giving thanks for our many blessings and loved ones!  #TasteTheGold