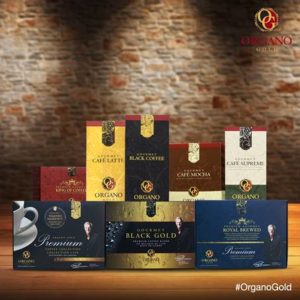 Sweet Summertime … a culinary concert of seasonal smells, flavors, and tastes!  Whether you're Grillin or Chillin, enjoy these hit melodies of flavor in harmonious combinations featuring Organo Gold…
The Classics – The OG's "King of Coffee" Meat Marinade: 2 Sachets OG King of Coffee dissolved in 4oz water, 3 tbsp. honey, 1/2 tsp. garlic powder, 1 tsp. each: parsley, sea salt, black pepper, minced onion and olive oil. Stir together all ingredients, cover both sides of your meat, refrigerate for 24 hours before grilling!  Serving Tip: Heat up remaining marinade with 1 tbsp. of brown sugar, once it thickens, use as a glaze or dip.
Alternative – Vegan Frappe ala OG: 2 Sachets OG Black Coffee, 1 cup frozen banana, 2 tbsp. coconut sugar or organic sugar, 3/4 cup hemp milk, almond milk or any plant-based milk and a 1/2 cup ice.  Place all ingredients in a blender and frappe until smooth.  Tip: Top with organic chocolate sauce for an encore.
Smooth Jazz – Mocha Banana Smoothie: 1 Sachet OG Hot Chocolate, 1 Sachet OG Black Coffee, 1 cup milk, 1 cup banana, 1 tsp. sugar or honey, 1/2 tsp. vanilla and 1 cup crushed ice. Place all ingredients into blender and mix until smoothie.  Pour into glasses (or jars) and serve.
Hard Rock – OG Coffee & Tea Ice Cubes: Prepare (and sweeten) to taste 2 Single Serve Royal Brewed or Toasted Hazelnut BrewKups OR 2 Sachets of Green, Red or Black Ice Tea, pour coffee or tea into 2 ice cube trays. Freeze cubes and enjoy in all your OG summertime drinks.
When the days get longer, and the nights shorter – serve up Summertime Hot or Cold with Organo Gold!