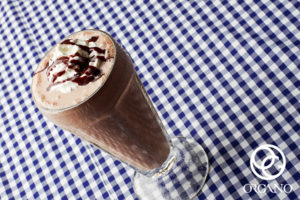 Today, in the United States, its National Chocolate Milkshake Day!  Smooth, frothy, rich, and sweet are just a few of the words that describe today's reason to celebrate. Everyone loves a great milkshake, chocolate or not, so let's take the celebration international!
In the UK and Australia, you can still buy traditional milkshakes in "milk bars," which are much like old-fashioned drugstores with counter service. They're usually served still in the steel cup, but may be poured into a paper cup for carry out orders.
In parts of Canada, milkshakes are known as a "Frappe".
Milkshakes are very popular in Latin America where they are called "Batidos".
At ORGANO™ we have our own global favorite created by Carolina Vaca.
INGREDIENTS:
-1 sachet Organo Gold Café Mocha
-½ glass ice cubes
-1 glass 2% milk
– sugar to taste
– a dollop of whipped cream
– a shake of ground cinnamon
– a drizzle of chocolate syrup
DIRECTIONS: (1)  Put ice cubes, milk and ORGANO™ Café Mocha and sugar into a blender, mix well until ice is crushed. (2) In a clear tall glass, pour some chocolate syrup (to your liking) and fill up with the drink mixture. (3) Serve with a dollop of whipped cream and a touch of ground cinnamon.
Enjoy a delicious milkshake for dessert tonight – whip up your own "Exquisite Chilled OG Mocha" and celebrate a fun food holiday with ORGANO™.