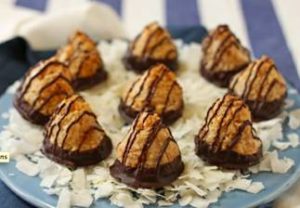 OG Mocha Hazelnut Explosion Milkshake and Cookies
By Jessica Vargas Colon / Bayamon, Puerto Rico
For Easter, while the grown-ups sit down for a lovely lunch of spring lamb, salads and various other seasonal foods, the kids are usually crashing out from their post egg-hunt sugar rush.
One way to keep them happy and occupied when they are done with lunch is with this OG-infused milkshake and cookie "explosion" — one of the popular recipes from our OGlicious Holiday Cookbook 2014. It is also a great way to fuel the kids up and keep them busy while the adults hide the Easter treats throughout the house or yard.
The cookies and the milkshake can also be prepared ahead of time!
INGREDIENTS MILKSHAKE:
1 sachet Organo Gold Gourmet Café Mocha
1⁄2 cup Organo Gold Toasted Hazelnut BrewKup
3 scoops vanilla ice cream 1⁄2 cup milk
3 tbsp brown sugar
1 cup ice cubes
Garnish: whipped cream, ground cinnamon, chocolate syrup, chopped hazelnuts
INGREDIENTS COOKIES:
2 sachets Organo Gold Gourmet Black Coffee
21⁄4 cups flour
1 tsp salt
1 tsp baking soda
1⁄8 tsp fresh ground nutmeg 1 tsp cinnamon
1 cup margarine
1 cup brown sugar
1⁄2 cup granulated sugar
2 tsps chocolate syrup
11⁄2 tsp vanilla extract
2 eggs
21⁄4 cups chocolate chips
11⁄2 cup chopped hazelnuts
DIRECTIONS:
1.            For the milkshake, prepare Organo Gold Toasted Hazelnut BrewKup following                                      package instructions.
2.            Place all ingredients in a blender and process until well combined and smooth.
3.            Pour drink on tall glasses and add garnishing to your liking: whipped cream,                                      chocolate syrup, cinnamon and chopped hazelnuts.
4.            For the cookies, preheat oven to 350 degrees F (175 degrees C.)
5.            In a large bowl, mix flour, salt, baking soda, nutmeg and cinnamon. Put aside.
6.            Meanwhile, using an electric mixer, beat margarine, sugars, chocolate syrup
and vanilla extract for about 3 minutes until smooth. Add mixed dry ingredients,                                 Organo Gold Black Coffee, chocolate chips and hazelnuts.
7.            Add eggs one by one and combine all together using a wooden spoon.
8.            Drop cookie dough by rounded tablespoonfuls on a baking sheet leaving 2 inches                                apart from each other. Bake cookies for about 12-14 minutes. Once ready let                                    cool. Serve with milkshake.