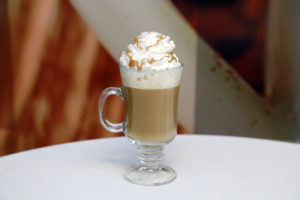 Chocolate meets caramel meets vanilla in this delectable and delicious new recipe!
A classic OG product comes together with our newest OG product to create a drink that's best suited for those who have a sweet tooth and aren't afraid to show it.
Share this product on social media with #OGBarista and lets spread this recipe to everyone all over the world!
Mocha Caramel Vanilla
Please note this recipe has been created for 2 servings…. Enjoy!
Ingredients
1 BrewKup of OG Caramel Vanilla with 6 oz of hot water
1 sachet of OG Mocha
Whipped Cream (optional)
Brown sugar or sugar (optional)
Caramel Syrup (optional)
Instructions
Brew Caramel Vanilla in the smallest cup size setting (6 oz.)
Empty an OG Mocha sachet into a glass of hot water and let it steep for 2-3 minutes
Pour 3 oz of each coffee into a new glass
Garnish the drink with whipped cream and caramel syrup on top