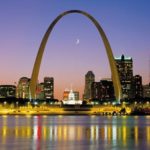 We are well and truly gearing up for the big annual OG ONE Team ONE Dream convention next month in St. Louis, Missouri. And it is such an amazing city — we cannot wait to welcome Organo Gold Distributors from around the word to this fascinating city.
Here are 10 Fascinating Facts about beautiful St. Louis:
Missouri is known as the "Show Me State."
St. Louis is also called "The Gateway to the West" and "Home of the Blues."
The 'Show Me State' expression is thought to have began in 1899, when Congressman Willard Duncan Vandiver stated, "I'm from Missouri and you've got to show me."
At the St. Louis World's Fair in 1904, Richard Blechyden, served tea with ice and invented iced tea.
In 1889, Aunt Jemima pancake flour, invented at St. Joseph, Missouri, was the first self-rising flour for pancakes and the first ready-mix food ever to be introduced commercially.
The tallest man in documented medical history was Robert Pershing Wadlow from St. Louis. He was 8 feet, 11.1 inches tall.
The most powerful earthquake to strike the United States occurred in 1811, centered in New Madrid, Missouri. The quake shook more than one million square miles, and was felt as far as 1,000 miles away.
Anheuser-Busch brewery in St. Louis, Missouri is the largest beer producing plant in the nation.
Missouri was named after a tribe called Missouri Indians; meaning "town of the large canoes."
Jefferson City, Missouri, the state's capital, was named for Thomas Jefferson, the third President of the United States.