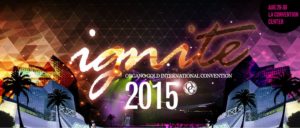 Our 6th annual International Convention, OG: Ignite, is going to be held in the entertainment capital of the world Los Angeles, California on August 29th and 30th. For those who want to take advantage of early bird pricing and secure their seat for the most memorable Organo Gold event in history you can do so here.
We offer 3 levels of tickets – Bronze (currently starting at $179) Silver (currently starting at $199) and the highly coveted Gold ticket which gives you admission to the event, premium seating and admission to our spectacular closing celebration (currently starting at $249).
For those unfamiliar with the 'City of Angels', here are some facts about our host city:
• Los Angeles is the only non-European city to have hosted the Summer Olympics twice.
• Los Angeles has the largest system of road ways in the United States, with more than 7300 miles in total.
• LA is home to people from more than 140 countries speaking 224 different identified languages
• The full name of Los Angeles is 'El Pueblo de Nuestra Senora la Reina de los Angeles de Porciuncula' which means 'The Village of Our Lady, the Queen of the Angels of the river of Porziuncola.'
• The Los Angeles County coastline is 75 miles long, stretching from Malibu to Long Beach
• The world renown Hollywood Walk of Fame's collection of stars is 2,486 and growing roughly by one or two a month.
• LA has surpassed New York's fashion district workforce with more than 87, 000 jobs in the fashion industry.
• Los Angeles also feature many teams in major professional sports like, NBA – LA Lakers and LA Clippers, NHL – LA Kings and Anaheim Ducks, MLB – LA Dodgers just to name a few.
• The Los Angeles five- county area (Los Angeles, Riverside, Ventura, Orange and San Bernardino Counties) has a population of almost 20 million.
• LA has more than 300 museums and 80 stage theaters, more than any other city in the USA.