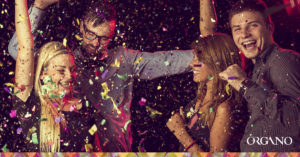 HAPPY NEW YEAR! Some wish it farewell right after the clock strikes twelve, while some call it a second chance or fresh start, a re-birth of sorts. It does not matter what you call it, how you celebrate it, or if you slept through it – it's 2016 and the start of a brand new year! Across the globe – church bells rang, horns tooted, whistles were blown and millions of happy, noisy people celebrated in high spirits (well past midnight), to see the old year out and the new year in. Join the ORGANO™ Global Family in the worldwide celebration of a Happy New Year in 2016, and explore some of its age old traditions.
New York City's Time Square & The 12,000 Pound Crystal Ball: Millions of people around the world watched as one of the most iconic New Year's traditions, the dropping of the giant ball (at the stroke of midnight), in New York City's Times Square. The event was first organized by Adolph Ochs, owner of The New York Times newspaper, to promote the status of the new Times Headquarters building. The now infamous ball first dropped on December 31, 1907, to welcome in 1908, and has been dropping every new year's eve since (except in 1942 and 1943 in observance of wartime blackouts). Over time, the ball itself has ballooned from a 700 pound iron and wood orb, to a brightly patterned sphere 12 feet in diameter with its outer surface consisting of triangle-shaped crystal panels and weighing in at nearly 12,000 pounds!
Times Gone By and "Auld Lang Syne" Singing: Another iconic tradition, at the stroke of midnight, is the singing of the popular new year's anthem "Auld Lang Syne".  It is often remarked that "Auld Lang Syne" is one of the most popular songs that nobody knows the lyrics to. "Auld Lang Syne" literally translates as "old long since" and means "times gone by."  It is an old Scottish song that was first published by the poet Robert Burns in 1796, and the song asks whether old friends and times will be forgotten, and promises to remember people of the past with fondness. It was American bandleader, Guy Lombardo, who popularized the song and turned it into a New Year's tradition. Lombardo first played the song, at midnight, at a New Year's eve party at the Roosevelt Hotel in New York City in 1929 – and a tradition was born. However, the most common use of the song involves only the first verse (and chorus) of Burn's original transcription; "Should auld acquaintance be forgot, and never brought to mind? Should auld acquaintance be forgot, and Auld Lang Syne."
A Brand New ORGANO™ and A Brand New Year: ORGANO™ has made a significant evolution with our recent rebrand. Our new modernized logo, along with a vibrant and fresh look, better reflects our company, culture and the international markets we reach. And, rather than have 'Gold' in our formal name, we allow people to experience the GOLD in all our popular products. And what better way to launch our epic rebranding, and brew excitement in the New Year of 2016? New Product!  ORGANO™  Single Serve Brew Cup line literally doubled in size, as we unveiled, not one new product, but Four New ORGANO™ Gourmet Products: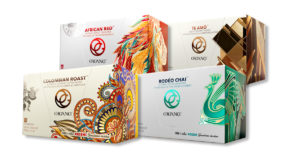 Colombian Roast: Authentic Gourmet Coffee Blend
Rodéo Chai: Gourmet Spiced Tea Blend
African Red: Rooibos Sweet Tea Blend
Te Amô: Decaf Gourmet Blend
The Age Old Tradition of The New Year's Resolution: Your standard issue New Year's Resolution is a ‌promise that you make to yourself to ‌start doing something good, or ‌stop doing something ‌bad, on the first ‌day of the new year. The challenge with that is – people evolve and change – and so do their personal and professional aspirations. Seriously taken, the tradition of a Happy New Year's resolution – is a way to gauge our goals and dreams. For the excitement seeker, it is a chance (some might call it an excuse) to try something daring.
Here are some new year's inspiring quotes and messages from some notable figures, to help ring in the new year:
"Yesterday is gone. Tomorrow has not yet come. We have only today. Let us begin."  Mother Teresa
"I think in terms of the day's resolutions, not the year's."  Henry Moore
"Begin the new year square with every man."  Robert B. Thomas, Founder of The Old Farmer's Almanac
"Year's end is neither an end nor a beginning but a going on, with all the wisdom that experience can instill in us. Cheers to a new year and another chance for us to get it right." Oprah Winfrey
"Learn from yesterday, live for today, hope for tomorrow."  Albert Einstein
"Write it on your heart that every day is the best day in the year."  Ralph Waldo Emerson
"Twenty years from now you will be more disappointed by the things that you didn't do than by the ones you did do. So throw off the bowlines. Sail away from the safe harbor. Catch the trade winds in your sails. Explore. Dream. Discover." Mark Twain
It is the end of another year, and it's a wonderful time to pause and reflect; to be reassured by the areas of correctness in your life, and to take corrective measures to make a positive change in the areas of your life that are not. New is the year, new are the hopes and resolutions, and warm are the wishes from the ORGANO™ Global Family – to yours – for a promising, prosperous and Divine New Year! #TasteTheGold
sources:
http://convention.organogold.com
http://delphosherald.com/Content/News/Community-News/Article/This-and-That-Happy-New-Year-/191/1185/196239