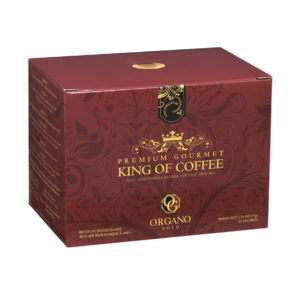 Organo Gold is many things to many people. One thing we love about OG is that it makes such an elegant hostess gift. A box of Organo Gold King of Coffee or Organic Green Tea makes the ideal gift for a thoughtful guest to give to a host or hostess. And they truly will be the host with the most when they have Organo Gold beverages, infused with the bountiful benefts of Ganoderma.
Organic is one of the other things OG is, when it comes to particular products, such as the aforementioned OG King of Coffee and OG Organic Green Tea products. For the coffee-loving host, a box of OG King of Coffee makes for an ideal gift, one that allows the lucky recipient to enjoy the luxury of a premium organic coffee, with the added bonus of pure organic Ganoderma lucidum spores. Only the finest organic beans are selected for this bold, flavorful coffee that is the perfect way to enhance any day. Tell your host to think of it as a necessary luxury, and encourage them to drink it at any time.
For the tea connoisseur, the gift of OG Organic Green Tea adds an element of zen to the day. This flavorful tea combines the best organic green tea leaves we can find, which are brimming with beneficial flavonoids and our renowned organic Ganoderma lucidum mushroom, which makes for a truly invigorating cup of tea.
In addition to being a perfect host gift, OG tea and coffee also makes a great alternative to unhealthy store-bought chocolate eggs or candies at Easter time, or a great addition to the Passover dinner table. How better to celebrate these religious occasions than with a rousing cup of tea or coffee?
So next time you are visiting friends for dinner or brunch, or perhaps find yourself as a houseguest at a friend's lovely home, why not think of Organo Gold King of Coffee or Organic Green Tea? You'll be the guest long-remembered for bringing something everyone loves and every home needs — a warm, perfect cup of coffee or a soothing cup of green tea.