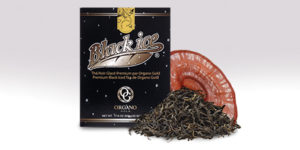 There is something about iced tea that quintessentially says "summertime" in North America. Whether it is sipped from Mason jars on a wide shady porch, or guzzled after a long bike ride in the sunshine, it is a particularly refreshing and invigorating beverage on a warm day. 
And there are plenty of ways to add flavor and color to your iced tea concoctions — from traditional fruits such as peaches or lemons to fresh herbs such as mint and basil. Here are a few tips, tricks and ideas for you to get creative next time you whip up a batch of Organo Gold's refreshing Black Ice tea, a combination of premium black tea and a hint of lemon, which provides an ideal base for your iced tea creativity:
•    Add fresh mint leaves to ice cube trays and then add those to the completed tea. The green leaf embedded in the ice cube adds a lovely visual to a glass or pitcher of iced tea, and the mint also adds freshness to the drink.
•    Try doing the same as above but with candied ginger and lemon rind — it makes for a delicious complement to the black tea flavor.
•    Try adding a can (or half a can) of frozen lemonade concentrate to a pitcher of OG Black Ice. The lemonade makes the iced tea particularly thirst quenching on a blazing hot summer's day. Hello Arnold Palmer!
•    Whip up a batch of Black Ice and pour into fun-shaped ice cube trays. They will stop your pitcher of Black Ice tea from getting watered down by regular old H2O ice.
•    Rhubarb adds a unique flavor and color to iced tea drinks. The vibrant colored stems add a pinkish hue to the glass, and that distinctive flavor makes for a wonderful tea with a very American history. Benjamin Franklin brought the first rhubarb seeds from Europe to America as a gift for his botanist friend John Bartram in 1771. Rhubarb originally came from China, where it was used as an herbal tonic. In the late 18th century, cane sugar became more affordable, which changed the way rhubarb was enjoyed. Which serves as a good reminder — do NOT forget to add some raw, cane or coconut sugar, or agave syrup, to sweeten your iced tea and to help counteract the inherent bitter tang of the rhubarb.