ORGANO™ understands – the kitchen is a sacred place for families all over the world. Certainly the kitchen is the heart of the home and the gathering place for food, fellowship and laughter – but there is also an element of taste and design involved.
The new ORGANO™ box designs showcase our modern and "limitless" color approach, and will take you on an exciting journey around the globe's most enjoyable flavors. Let's take a closer look and the inspiration behind each new and exciting flavor, and the boxes so beautiful people will not only be proud to showcase them on the countertop – but will want to collect them all – like fine works of art.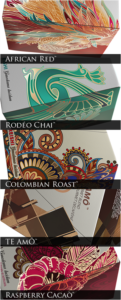 African Red – Characteristic notes in a powerful, but smooth tea, bursting with a savory blend of sweet and nutty flavors. This decaffeinated Red Rooibos Sweet Tea Blend from Africa is inspired by the elegance, grandeur, and grace of the great African Lion.
Rodéo Chai – Is blends the mystique of India with the opulence and chic of Rodeo Drive – all in one cup with this authentic blend of robust gourmet chai spices. This sophisticated and exotic tea blend draws its inspiration from the beautiful people of India, and the majesty of the almighty peacock.
Colombian Roast – This impressive, original blend is made from the finest Columbian coffee beans, and boasts a bold, rich and flavor. It's inspired from the gorgeous and happy lands of Colombia, where summers are endless and the rainforests dance.
Te Amo – Because we know it's not just coffee – it's a genuine lifetime love affair for the greatest drink on earth – even for those who can't have (or don't want) caffeine. You'll fall in love over and over again, answering the question of inspiration – LOVE!
Raspberry Cacaò – With all the sweetness of royal red raspberries and chocolate, this is one rich and  irresistible gourmet coffee blend. Inspired by the mischievous and cunning fox who has a reputed ability to evade hunters … along with an insatiable love of berries.
The kitchen is a warm, welcoming place to come together. We say goodbye there before school, and we say hello there when we get home from work. It's not just a place to eat and share, but the exciting new ORGANO™ box designs on display will make you travel, imagine, and dream – every sip of the way!