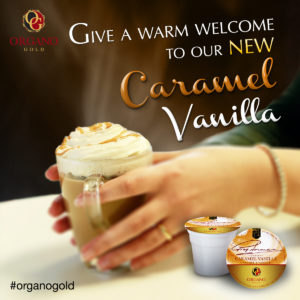 In case you haven't heard, OG just launched its newest and most delectable BrewKup flavor to date – Caramel Vanilla! Since its arrival only a few short days ago, Caramel Vanilla BrewKups have been flying off the shelves faster than you can say "Vanilla Green Tea Latte".
To commemorate the release of Caramel Vanilla, we are going to show you how the get the best of both worlds – Pre-brewed and BrewKups – to make a truly original OGlicious recipe. As usual, share your recipes on social media with the #OGBarista!
Please note that this recipe have been created for 2 servings…. Enjoy!
Caramel Vanilla Latte
Ingredients
1 BrewKup of OG Caramel Vanilla with 6 oz of hot water
1 sachet of OG Latte
Whipped Cream (optional)
Brown sugar or sugar (optional)
Caramel Syrup (optional)
Instructions
Brew caramel Vanilla on the top in the smallest cup size setting (6 oz.)
Empty an OG Latte sachet into a glass of hot water and let it steep for 2-3 minutes
Pour 3 oz of each coffee into a new glass
Garnish the drink with whipped cream and caramel syrup on top