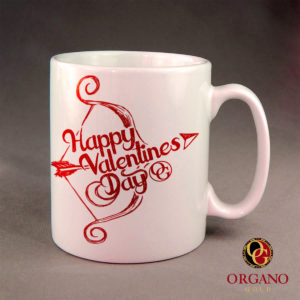 Tomorrow is Valentine's Day, and Organo Gold wants to help you prepare a special surprise for the ones you love.
This year, pamper her like a queen, or him like a king, with a customized mug full of rich luxurious OG Royal Brewed, the blend that is truly fit for royalty.
Ingredients and materials
1 OG Royal Brewed
1 white ceramic mug
1 black Sharpie or similar markers
Cream and sugar (optional)
Instructions
Wash your mugs thoroughly with soap and water
Once the mugs are clean, it's time to decorate! Use the marker to make the design you want. You can make a drawing, personalized it with the name of the beloved one, or just use a cute phase like "Good morning handsome" "Good morning beautiful"
You can use colors if you want to. Just keep in mind that some colors will darken slightly during the baking process.
Bake the mugs in the oven at 350 degrees for about 30 minutes. Then shut off the oven and let them cool down.
Brew the coffee, add cream and sugar if desired, and serve in your personalized mug in Valentine's Day breakfast.
Share with us your creative designs on social media with #OGBarista