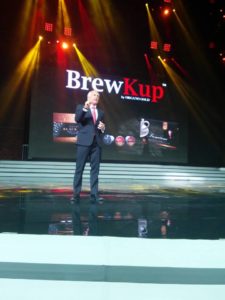 It's often on milestone dates throughout the year – such as birthdays, holidays and anniversaries – that we tend to exclaim "Where has this year gone?" and comment about how fast time seems to be passing by. That's us here at Organo Gold, as we realize it is one year since we announced the impending release of our exciting new single-serve coffee product — BrewKups.
BrewKups was OG's first entry into the brewed, single-serve coffee category, and it was also the first OG product to be endorsed by Greg Norman. At the time, everyone was optimistic about the future of this on-trend product. "The product line is impressive and an important step forward in helping Organo Gold to capture one percent of the global coffee market," stated Holton Buggs, OG Executive Vice President of Sales and Marketing, at the time of the launch.
"Entering into the brewed coffee category is a natural step in Organo Gold's evolution," stated Bernardo Chua back when the BrewKup was first born. Indeed, the progressive product showed that OG is truly on the cutting-edge of global coffee consumption trends. As little as five years ago, single-serve coffee wasn't even on the radar. Now, it is a massive and rapidly-growing product market.
Here are some incredible facts and figures about the single-serve coffee revolution:
• A Wall Street Journal Market Watch report in November 2013 said, "sales of single-serve coffee have tripled since 2011."
• A report in The Seattle Times in February 2014 noted that single-serve brewing systems now account for more than a quarter of every dollar Americans spend on coffee to drink at home.
• According to a recent report from market research giant Mintel, in 2013 US consumers bought $3.1 billion worth of coffee pods — versus $132 million in 2008. That's an impressive growth of 213%.
Of course, in just one year, BrewKups have well and truly exceeded even the most optimistic expectations. Add to that the special limited edition Vanilla Caramel BrewKup flavor, which was so popular we had no choice but to make it a permanent flavor on the BrewKups menu.
Thank you to everyone who has made BrewKups such an incredible success in their first year. Let's celebrate with what else but a cup of our favorite BrewKup, be it Gourmet Black Gold, Toasted Hazelnut, Chocolate Almond, Royal Brewed or the new favorite, Caramel Vanilla.