Happy 1st birthday to the OG BrewKups!
It's been one year since the introduction of our delicious OG BrewKups at P50K in San Antonio, Texas. To celebrate the occasion, we want to share with you one of our favorite recipes from the OG Cookbook: OG Brewed Mocha Almond Pancake by Roberto Carlos Cruz from Puerto Rico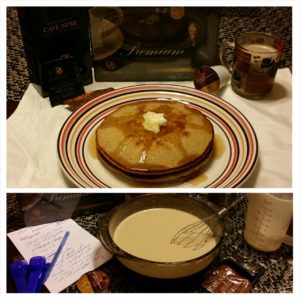 Ingredients
2 ½ cups self-rising flour (if unavailable add 1 tsp baking powder to any flour)
2 eggs slightly beaten
¼ cup oil
½ cup milk
1 cup Organo Gold Chocolate Almond BrewKup
1 sachet Organo Gold Black Coffee
1 sachet Organo Gold Café Mocha
Honey (optional)
Butter (optional)
Directions
Brew Organo Gold Chocolate Almond BrewKup using the medium size.
Dissolve OG Café Mocha and OG Black Coffee into the brewed Chocolate Almond. Set aside.
In a large bowl, combine flour, beaten eggs, oil and milk and whisk until well incorporated. Add Organo Gold brewed coffees and chocolate to the mixture. Blend well.
Cook pancakes on a hot griddle or pan over medium heat. Turn once and cook until they are golden.
To serve, add a small scoop of butter and drizzle with honey.